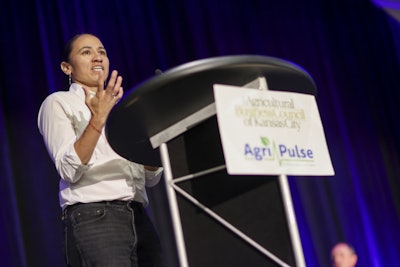 Courtesy Office of Rep. Charice Davids
As members of the U.S. Congress continue to debate the Ending Agricultural Trade Suppression (EATS) Act, its supporters seem to be Republicans while its opponents seem to be Democrats.
However, Rep. Charise Davids, D-Kansas, indicated the EATS Act could be something she could vote in favor of.
The EATS Act challenges the constitutionality of laws such as California's Proposition 12, which only allows the sale of pork from farms that don't use gestation crates and eggs from farms that use cage-free laying systems. It is being considered for inclusion in the next farm bill, with the old one set to expire soon.
Davids joined fellow House Agriculture Committee Tracey Mann, R-Kansas, on stage during the Agricultural Business Council of Kansas City's Ag Outlook Forum on September 25 in Kansas City, Missouri.
Mann was the first to address the EATS Act, stating that he fully supported it because he believes laws such as California's Proposition 12 violate the commerce clause of the U.S. Constitution. Mann's predecessor is Sen. Roger Marshall, who introduced the EATS Act in the Senate.
Davids, a newcomer to the agriculture committee, acknowledged that she was nervous while speaking at the forum as she is still learning agricultural issues. Her district previously mostly included the Kansas City suburbs, but an apparent attempt to gerrymander the state's congressional districts now has the lone Democrat in the Kansas delegation representing some more rural areas as well.
Speaking of her views on the EATS Act, Davids, gesturing toward Mann, said, "I have a feeling that actually, we're probably not in too different of a place on that."
Davids does have a few issues with the EATS Act as it is written, but she said that was because of her background as an attorney and "the way the bill is specifically written." She indicated the verbiage related "jurisdictional issues" are concerning.
"I would hate to see states being able to do things that would impinge on the ability of farmers and ranchers and producers in other states to do the best practices that they have," Davids said. "I'm not opposed to it in principle. It's just (a matter of) wanting to make sure that we get the language right."