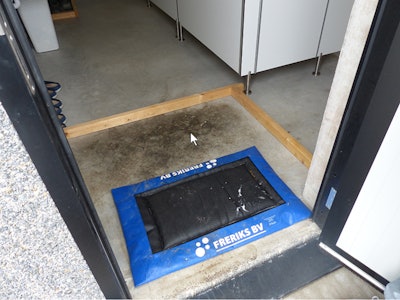 From my trench, my home, I see very few people passing by in the street. Even those images of the busy street in Madrid feel far away. The same was in Mexico in 2009 with the H1N1, although it seems that people have already forgotten it. Many look at me incredulously when I tell them that I have already been through this.
But, let's talk about poultry. What does this whole COVID-19 issue of locking yourself up at home, of going out only for what it is essential, keeping distance, disinfecting, cleaning up, remind you of? I can only refer to the well-worn idea of biosecurity.
Just as the world is currently learning to avoid getting the coronavirus, we must remind ourselves that it should be the same in poultry production. Personal and facilities cleanliness is paramount. We need to avoid transporting contaminated material, such as chicken manure. Facilities should be tightly closed and impervious to visitors and outsiders, etc. It sounds familiar, doesn't it?
Another important aspect is that of the agglomerations, because now we cannot attend parties, conferences or concerts. Someone could argue that birds are crowded in the farms. But it is at this very point that more emphasis should be placed on why farms should be isolated to avoid spreading diseases. Free-range production systems, for example, can pose a risk.
This is a strong lesson, because it is hitting all of us everywhere, from public health to economics. But we have already received these shocks in poultry production before, so this is nothing new. Now, we must establish protocols for workers, both on farms and in processing plants, that will undoubtedly reinforce poultry biosecurity.
And one more thing. Prudence and responsibility must come from within ourselves. The state and the authorities are to regulate, but we already know that they do not always respond accordingly. So, let's take our side and work together, in harmony.
What do you think?
View our continuing coverage of the coronavirus/COVID-19 pandemic.