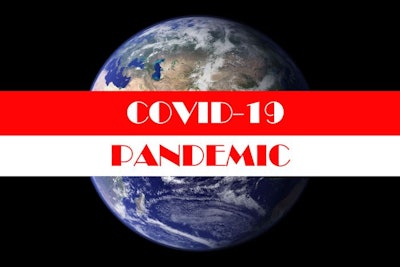 Ron Prestage, president of pork and turkey company Prestage Farms, offered an abundance of insights on COVID-19 and its impact on business while speaking during the recent Iowa Farm Bureau Annual Meeting webinar series.
Earlier in the week, we reported on his viewpoints on how the pandemic should have everybody who is considering building a new processing plant rethinking their designs. But Prestage shared thoughts on so many other topics related to COVID-19 and how it has affected the industry. And all are worth sharing.
A vaccine for COVID-19
As both a leader of an integrated multi -species protein company and as a veterinarian, Prestage is aware that coronaviruses have impacted both the pig and turkey industries. He specifically mentioned that porcine epidemic diarrhea virus (PEDv), transmissible gastroenteritis (TGE), and delta coronavirus, all of which affect pigs.
While vaccines for those coronaviruses have not been overly effective, Prestage does have optimism for the effectiveness of a COVID-19 vaccine, primarily because it has been a higher priority than animal vaccines have been.
"I'm very, very excited about the fact that It looks like we may have a vaccine that will help us and maybe change my mind to thinking that light at the end of the tunnel is actually the end of all of this insanity instead of a locomotive coming straight at us," said Prestage.
"But in the past, with all the money spent in an effort to try to control all the coronaviruses that I deal with in my business, there has never been an effective vaccine developed. There's been a lot of efforts and a lot of time in all species to control the coronaviruses, but not successfully, but there's never been this kind of manpower and money thrown at it like there has with this pandemic."
Changes in turkey demand
Prestage spoke of the changes in turkey product demand that the pandemic created.
"Turkey demand, especially for the deli-type products, went up," he said.
But more significant was the changes in demand for turkey products during the Thanksgiving season.
"Interestingly, for Thanksgiving, there was a huge demand for little turkeys, because instead of having big family gatherings, everybody wanted to have small family gatherings. And so, we had a very unusual demand for the size of the whole birds that we sell out of our North Carolina turkey plant. I believe that that was pretty consistent across the country. We had more people who bought what we call the tray pack options, like bone-in breasts, or boneless, skinless thighs, or bone-in skin-on thighs than what we normally see during the fourth quarter during the holiday season."
Mask wearing
Prestage was frustrated that misinformation was initially shared, which led some people to believe that it was unnecessary for people to wear masks. He said there was no pushback from Prestage Farms employees about mask mandates, in which workers at Prestage plants were required to wear masks at all times, other than when they were eating.
"I understand one of my brothers out there on a tractor in a field in Iowa probably isn't going to need a mask," Prestage said. "When you've got 800 people inside a plant, processing those hogs, it's critically important, even though we put partitions up and did everything that we could think of to try to keep our people more socially distanced and give them more means of protecting themselves."
Temperature checks
Like many companies that process meat and poultry, Prestage Farms has checked the temperatures of anyone who enters a company facility. However, Prestage isn't convinced it has truly been a valuable endeavor.
"Looking back on it, I think that in spite of the fact that we still do it, I think it's essentially worthless. I think most people that have a fever know that they don't feel well and are smart enough not to come to work. I'm not sure if we've ever actually detected somebody with a fever that didn't know they already had one. So, in spite of the fact that it looks good and makes us feel better, I just don't really think that in reality that this policy that we and many others have had of taking temps has really been worth anything, personally."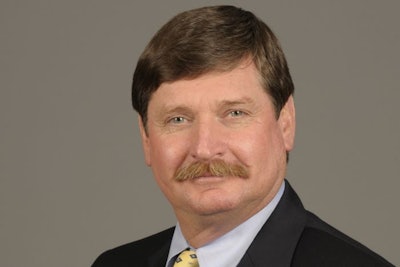 Ron Prestage | National Pork Producers Council
Appreciating the workforce
If nothing else, the pandemic has taught Prestage and other leaders within the family-owned company how much they value their workers.
He spoke of how there are about 135 million market hogs slaughtered and processed in the United States annually, and those animals are planned for just-in-time processing. But when the pandemic hit plant workers and the U.S. pork processing capacity was down to 60% earlier in 2020, it created substantial supply chain disruptions.
"When people talk about essential workers, the workers that work for me that have to be there every day to process those animals, to feed them and care for them, and drive them on trucks, and everything else, are truly the definition of essential. And there is no plan that gives us the opportunity to take a vacation from that," he said.
Politicizing of COVID-19
Prestage said he gets upset about how some people, including the media, have tried to make COVID-19 a political issue.
He said in the states where Prestage Farms does business – such as North Carolina, South Carolina, Iowa, Oklahoma, Texas and Mississippi – the state governments have been nothing but cooperative. He especially spoke well of Iowa Gov. Kim Reynolds.
"If you watch the news, it sounds like there's this adversarial relationship between business and government, and I have not seen that. I'm not saying that it doesn't exist with some companies and in some locations, but it has not been our experience," said Prestage.
He added that he doesn't think the federal government has received the credit it deserves, especially regarding Operation Warp Speed "in developing a vaccine in a matter of months, when I can tell you that the typical time it takes to bring a new vaccine to market is closer to a decade than it is a year."
"Again, that just gets politicized. I wish the hell everybody forgot about party and thought about country, and just did what they could to do what's best for all Americans," he said.
View our continuing coverage of the coronavirus/COVID-19 pandemic.