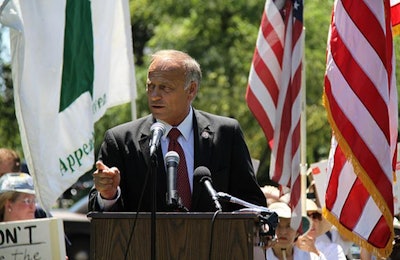 Steve King's days as a member of the U.S. House of Representatives may be over, but his desire to prevent one state from regulating the way eggs, pork and other agricultural goods are produced elsewhere in the United States remains as strong as ever.
King, R-Iowa, introduced the Protect Interstate Commerce Act (PICA) as a provision in the past two farm bills, as well as a standalone bill in 2019. That legislation aimed to nullify laws such as California's Proposition 2 and later Proposition 12, which require all eggs and pork sold in California to meet certain standards that limit farm animal confinement. King considers such laws as a violation of the commerce clause of the U.S. Constitution.
However, shortly after that, voters chose not to re-elect King. He understands that he didn't please everyone while in Congress, but he still wants to make a difference.
"I have always cared about good public policy," said King.
The history of PICA
Many people think the impetus for PICA was a reaction to Proposition 2 and the fact that Iowa is a national leader in pork and egg production. However, it was actually regulations about the sale of ethanol – which is also widely produced in Iowa – in California that got King's attention.
King recalled thinking, "they are regulating the means and methods of production from California and imposing it on the rest of the country, and that becomes a violation of the commerce clause of the Constitution."
So, King wrote a bill that prohibited the states from regulating the means and methods of production of products that are traded in interstate commerce. But he said he "created a whole bunch of enemies because of the variety of products that are produced in each state."
He realized the bill was "too much to manage at the time," so he brought it into the farm bill. That was the same time the egg bill was being discussed.
PICA was written into the 2013 farm bill, and was commonly known as the King amendment, but it lacked support from some agricultural groups and from a number of members of Congress, said King. When the bill was signed into law in 2014, PICA had been stripped from it.
He tried again when the 2018 farm bill was being drafted. But King said then-House Agriculture Committee Chairman Mike Conaway, R-Texas, "didn't fight for it."
King reached out to his Iowa Republican colleagues in the Senate – Chuck Grassley and Joni Ernst – but King said he got little to no response from them. He also pitched it to Senate Agriculture Committee Chairman Pat Roberts, R-Kansas, who expressed reservations.
Again, the farm bill passed without the inclusion of the King amendment.
The standalone PICA bill proposed in 2019 also failed to gain traction.
Two ways to nullify Proposition 12
According to King, there are two ways to keep California's Proposition 12 from impacting the way egg and pork producers outside of California do their jobs.
"One is to identify a plaintiff who has standing and get it to the Supreme Court. The other is for Congress to pass PICA," King explained.
There is current litigation to halt Proposition 12, being led by the National Pork Producers Council and the American Farm Bureau Federation. However, until Proposition 12 is fully realized, it can be difficult to find such a plaintiff that King describes as one "with standing."
"In order to have standing, you'd have to have a producer who could show that they've been damaged," he said. King pointed out that it is easier for larger producers to adjust production methods and ship to California than it is for a smaller family farm to do so. But the producer will need to prove that.
He also thinks if consumers can prove they have suffered damage from being forced to pay higher prices for cage-free products, they too could have standing.
But if a new version of PICA were to be passed, King believes that would be a more "secure solution."
"You're likely to get a better regulation from PICA than the courts," he said.
King's thoughts on national production standards
Another one of the co-sponsors of the 2019 version of PICA, Rep. Ron Estes, R-Kansas, recently answered questions about the future of PICA.
Estes said there is still some anti-Proposition 12 sentiment in Congress, and he said one direction that is being discussed is a national standards system, instead of "a patchwork system of where states are putting in special rules and regulations for dealing with how animal agriculture" production methods are conducted.
A WATTPoultry.com blog post about Estes' comments caught the attention of King, who doesn't like the idea of a national standards system.
"States should be setting these standards, not the federal government. That's part of the vision of the founding fathers, is that there be experiments in all of the 13 colonies and now 50 states. A national regulation takes that away. And who's in charge in Congress? Not people that know a single thing about agriculture or livestock or animal production. … What you end up with are the people who know little about meat production or egg production that are setting the rules," said King.
New versions of PICA introduced
King said he does feel some optimism about new versions of PICA, and thinks there is some support from it on both sides of the aisle.
Roger Marshall, R-Kansas, was another co-sponsor of the 2019 PICA. Marshall has since moved from the House and now holds the Senate seat formerly held by Roberts, who retired. And he has also helped introduce a new version of PICA, renamed the Exposing Agricultural Trade Suppression (EATS) Act.
"We simply can't allow radical state laws to dictate the agricultural practices of the rest of the nation, especially in a way that will only increase food costs for the food insecure and drive farmers and ranchers out of business," Marshall said in a press release.
That act was introduced along with other senators, including Grassley and Ernst.
A similar bill has been introduced in the House by Rep. Ashley Hinson, R-Iowa.
"Farmers in Iowa don't need Californians to tell them how to do their job – they raise and sell the highest quality pork products in the nation," Hinson said in a press release. "This legislation will ensure that people across the country can continue to enjoy the best bacon, eggs and pork made in Iowa and put a stop to the ridiculous attempt to control what's on your plate."
While so much emphasis has been placed on California's law, similar regulations have been approved in other states. PICA or EATS would also prevent those states from regulating agriculture elsewhere in the U.S., too, King said.