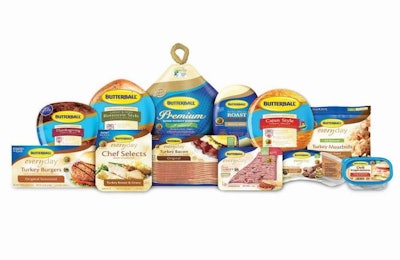 A look into Seaboard Corporation's Form 10-Q that was released following the conclusion of the first quarter of fiscal year 2022 reveals some pretty compelling information.
First is that the company made money on its investment in Butterball for the first time in recent history. Second is that Seaboard Corporation, through its Seaboard Foods subsidiary, increased its investment in Butterball just a few weeks after the quarter ended on April 2.
Larger investment in Butterball
According to the WATTPoultry.com Top Companies Database, Seaboard owns a 50% stake in Butterball, with Goldsboro Milling Co. owning the other half of what is now the second largest turkey company in the United States.
But the 10-Q revealed that since 2010, Seaboard has held warrants, which upon exercise for a nominal price, enable Seaboard to acquire an additional 5% equity interest in Butterball, which is probably the most well known of all the turkey brands. The warrants qualified for equity treatment under accounting standards and were classified as investments in and advances to affiliates in the consolidated balance sheets. According to the 10-Q Seaboard could exercise 16 these warrants at any time prior to December 31, 2025, when the warrants would have expired.
On April 19, 2022, Seaboard exercised these warrants for nominal consideration to acquire the additional 5% percent of the issued and outstanding stock units in Butterball.
While Seaboard's investment has increased in Butterball, the form stated that all significant corporate governance matters (related to Butterball) upon exercise are still to be shared equally between Seaboard and "its partner in Butterball," which is Goldsboro Milling.
Butterball's most recent quarter
For the first quarter of fiscal year 2022, Seaboard reported net sales of $399 million for its investment in Butterball, which is up from the net sales of $341 million for the quarter completed one year ago.
But probably more notably is that Butterball achieved a net income of $30 million for the most recent quarter, versus a net loss of $11 million for the first quarter of the 2021 fiscal year.
Needless to say, that's a pretty significant turnaround. Seaboard stated on the 10-Q that the improvement was based largely on higher selling prices with more value-added products. However, those gains were partially offset by higher costs related to turkey feed, plant production and transportation.
Other industry dynamics
Amid challenging market conditions, the U.S. turkey industry contracted in 2021, which was the the fourth consecutive year for such a change. Butterball itself confirmed that it slightly reduced production in 2021 when compared to the previous year.
While the present outbreak of highly pathogenic avian influenza (HPAI) hadn't fully intensified until the late stages of the first quarter, it is also worth noting that the turkey industry as a whole has been hit hard by the outbreak. At the time of this writing, 117 U.S. turkey flocks have been affected by HPAI, resulting in the loss of nearly 5.2 million turkeys, according to the United States Department of Agriculture (USDA) Animal and Plant Health Inspection Service (APHIS).
And while APHIS does not disclose for which company the HPAI affected flocks were being grown for, it would appear that Butterball may not have been hit as hard as some of its competitors.
Butterball operates facilities in North Carolina, Arkansas, and Missouri. No turkeys in Arkansas or have been affected by HPAI, while only five Missouri flocks and six North Carolina flocks have been affected.
With all of the present challenges in the U.S. turkey industry, it might seem gutsy to further invest in the industry. But as the past quarter's results indicate, Butterball must be doing something right.