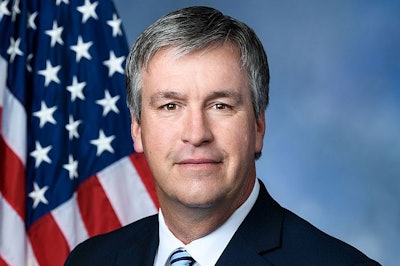 You would think that a member of the U.S. House Agriculture Committee, who studied poultry science in college and represents a poultry-producing congressional district, would know the key reason highly pathogenic avian influenza (HPAI) has spread to so many farms in 2022 and 2023.
I thought so anyway, but I was wrong.
Rep. Barry Moore, R-Alabama, and other members of the House Agriculture Subcommittee on Livestock, Dairy and Poultry heard National Turkey Federation (NTF) Vice Chairman John Zimmerman testify during the hearing, "A review of Animal Agriculture Stakeholder Priorities," held on May 17. The hearing can be viewed on YouTube.
When it came Moore's time to ask hearing witnesses questions, when addressing Zimmerman, Moore said "I'm actually a poultry science major from Auburn, so I understand some of this industry pretty well. But I'm a little rusty. It's been a few years." Then Moore asked Zimmerman to explain the research and investment needs that could help the poultry industry battle HPAI.
Zimmerman said he thought the industry learned a lot after the 2015 HPAI outbreak, including better biosecurity practices. However, the current outbreak has endured longer because of HPAI in the wild bird population.
"We need to look at other things and right now with the high viral load in the wild bird population, a lot of studying needs to occur to figure out why these birds have a higher viral load and why they are living, while our domestic birds are dying from this virus, and what can we do to live with a wild bird population that seems to have endemic high path avian influenza in their system," Zimmerman said.
Moore's response to Zimmerman's answer floored me.
"I didn't realize that it was in the wild populations. I had no idea it was pretty prevalent there," he said.
Granted, Moore admitted he was "a little rusty" when it came to poultry science. But to me, this isn't about rust. It's about being out of touch with the constituents he serves.
I do give him credit for at least asking Zimmerman the question he did, but there is a difference between asking a question to a poultry producer who lives outside of the district you represent and asking a question to a poultry producer inside your own district. There's also a difference between visiting with a poultry producer who came to you in Washington and visiting with a poultry producer while actually returning home to the district you represent.
I don't know exactly how much poultry production is done in Alabama's second district, but I do know that his district includes the towns of Dothan and Ozark, and that Wayne-Sanderson Farms has operations in both of those communities.
I also know that Moore's predecessor, Martha Roby, whose decision to not seek re-election in 2020 helped clear the way for Moore's election, visited what was then Wayne Farms' brand new feed mill in Ozark.
It seems to me that if Moore wants Alabama Second District voters who work in the poultry sector to feel like he actually represents them, he should follow Roby's lead and get back home to talk to his constituents in the industry.