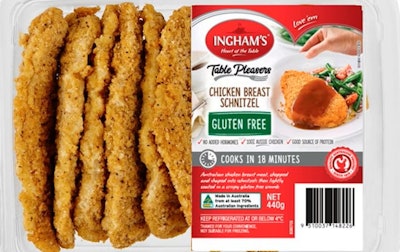 Courtesy Ingham's Enterprises
A strike that started over the weekend is over at Ingham's two poultry plants in Australia.
More than 1,000 employees Ingham's at two sites – a processing plant at Bolivar in Adelaide's north, and at Osborne Park in suburban Perth, have agreed on a three-year deal that will increase wages 5.12% the first year and 4% the second and third years, according to a report on 7News.com.au.
Employees went on strike on Friday, September 22 after initial deals from Ingham's fell short of employee expectations.
Members of the United Workers Union and Australian Manufacturing Workers Union rejected an initial deal that called for a 3.9% pay increase the first year and 3.5% pay increases in two subsequent years.
The report states in addition to pay increases, Ingham's committed to changing labor hire practices, improved breaks and an audit of senior management behavior.
Ingham's is Australia's largest poultry meat producer and supplies retailers such as Woolworths, Coles and Aldi, as well as fast-food giants KFC, McDonald's and Subway.
More on Ingham's
With annual slaughterings of 230 million birds, Ingham's Enterprises Pty Ltd is the largest poultry company in Oceania, according to WATTPoultry.com's Top Poultry Companies survey.
In the company's annual results for the 2023 fiscal year, Ingham's reported an overall drop in the volume of its sales in Australia. However, profit was higher than in the previous 12 months. For Earnings before Interest, Taxes, Depreciation, and Amortization (EBITDA), the year-on-year increase was 13% at almost AUD419 million.
Earlier this year, Ingham's announced its intention to acquire a hatchery business in New Zealand.
Within the past couple weeks, it has announced the purchase of a new poultry farm in New South Wales, Australia.