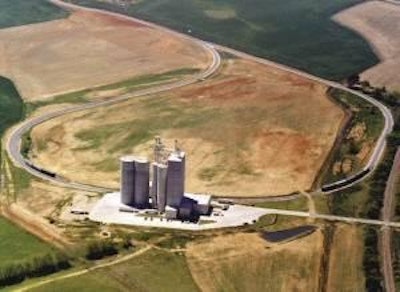 Tyson now is in the process of upgrading the Talladega plant's existing 65-car capacity loop rail line to the new 90-car upper limit offered by CSX in its Grain Express Unload program. This upgrade represents nearly 28 percent faster unloading, amounting to increased intake of another 2,250 tons of corn in the same 15-hour period.
However, even during the planning phase, Tyson's feed mill engineering group, including Ted Burnett, Kenny Messer, and Roger Miller, had envisioned the need for increased speed in bringing corn to the 100 ton-per-hour Talladega mill. From the start, Tyson-Talladega, located about 25 miles east of Birmingham, was designed and built for rail pit intake capacity of 800 ton-per-hour (tph), along with a truck pit common to each 400 tph rail receiving pit.
Incentive for speed
The upgrade to 90-car grain trains at Talladega will increase the unit train handling payback from CSX from $50 per car to $75. CSX will help in other ways, too, notes Tyson's director of feed mill engineering and services, Tommy Robertson.
Robertson is a 26-year Tyson employee and Arkansas native who started with the company as a 'broiler tech.' He was promoted to breeder-hatchery manager and then took over as feed mill manager at Nashville, Ark. When his boss Burnett was promoted, Robertson took the job to direct Tyson feed milling and services. See http://www.tyson.com/Corporate/AboutTyson/Locations/.
"CSX also is reimbursing Tyson for extending our rail spur to accommodate 90-car trains," Robertson says. "This is part of a negotiated contract for railroad access to our neighboring industry via our spur."
"However," he emphasizes, "we still will be able to meet the 15-hour unload deadline using our existing intake system at Talladega."
The CSX agricultural products division, based in Jacksonville, Florida, notes that the 15-hour time window starts at the first of four specific time periods, 0001, 0600, 1200, or 1800 hours. There is no relief for Saturdays, Sundays, or holidays, except for New Year's Day, Memorial Day, Independence Day, Labor Day, Thanksgiving Day, and Christmas Day. Also, the Grain Express Unload program has its own demurrage provisions. Find details at http://www.csx.com/?fuseaction=customers.ag_grainexpress.
CSX ag products marketer Tim McNulty points out that the Talladega plant is one of 11 feed mills in the Southeast currently signed up for the program. Almost all the plants are operated by vertically integrated food companies, including Case Farms, Mountaire Farms, Murphy Brown (Smithfield), Perdue Farms, and Pilgrim's Pride. McNulty adds that there is no expiration date on the per-car payback to feed mills in the unit-train program. With added rate breaks, McNulty says, "Total efficiency benefits can add up to $125 per car."
Working with the Tyson feed milling engineers, the design-engineering-construction firm T.E. Ibberson Company was the general contractor for the Talladega project. Civil engineering and track design were provided by W William Graham Engineering, while Tyson's own in-house unit provided electrical system design, management, and controls installation. The Talladega plant's management and process controls were integrated into Tyson's inter-company controls (TMCS) which are networked to the entire company. The Tyson network thus linked Talladega to 33 other feed mills in the USA owned by the Springdale, Arkansas, company.
Tyson Foods currently ranks as the world's fourth largest feed manufacturer (see Top 25 companies' in the Article Archives at www.feedindustrynetwork.com). It is also one of the world's leading food companies and one of the pioneers in developing vertically integrated broiler chicken production. Feed milling director Robertson notes that safe, efficient, cost-effective feed manufacturing plays an important role in building the company's broiler business.
"Tyson has developed single species mills to meet the demands of feeding our birds," Robertson states. "The design and location of our mills are to produce the highest quality feed at the best possible cost of manufacturing. This has been a big part for Tyson to be able to lead the industry in broiler production."
Tyson has significant feed-related investments in Alabama, Robertson adds, with three feed mills, Talladega, Ivalee, and Albertville, and a poultry co-product blending plant at Cullman.
"Talladega is the third newest mill in our system. It was completed in 1999 and replaced the old mill in Oxford that was a 1950s model 'wooden cribbed' mill. Talladega came into production just in time."
Robertson notes that the new feed mill was strategically sited on the CSX rail line at Talladega to take advantage of the rail incentives for high-speed unit trains, which offered a significant advantage on corn freight rates over single rail cars or trucks. The Talladega site also provided good access to grower farms, with an average delivery roundtrip of 82 miles.
Tyson built several comparable feed mills in the mid-to-late 1990s, developing expertise in the single species plant. This was an advantage in discussions with local officials, Robertson says, who had questions about the impact of a big chicken feed mill on the Talladega community and surrounding environment.
"They wanted to know what the Talladega feed mill would look like, and, Would it smell?'" Robertson recalls. "We were able to show the municipal and county officials what we had in mind. They toured our new feed mill at South Fulton, Tennessee. They were impressed and backed the construction at Talladega."
Federal, state, and local regulatory requirementsincluding storm water, air, land disturbance, septic, zoning, etc.proceeded normally for Tyson-Talladega, as did negotiations for the railroad crossing, multiple-owner land purchase, and entrance easement.
By the late 1990s, Robertson says, Tyson had assembled an experienced, skilled design, construction, and management team that had worked together on several other feed mill projects. That collective expertise made the construction process easy at Talladega and allowed the team to focus on the design of the 'innovative teardrop' continuous rail spur.
Current specs
In April 1999, Tyson Foods commissioned the Talladega feed mill and it was in full operation within about six weeks while the old mill was being shut down. The new plant was designed for operation five days per week at 24 hours per day, employing three shifts with a total of 11 hourly team members' or TMs.
Production TMs consist of receiving operator, production operator, dispatch operator, maintenance operator, and utility operator. In addition, there is one office personDenisha Storeyand two supervisors30-year TM Randy White, Tim McFall, and mill manager Roland Dyess. The feed delivery operation has 28 TMs who include three dispatchers and the balance as drivers.
The current design capacity of Tyson-Talladega is 100 tph pelleting, with 10,000 tons-per-week (tpw) output. Presently, the plant produces about 8,400 tpw for a five-stage broiler grow-out feeding program, as well as feed for the company's broiler breeder program.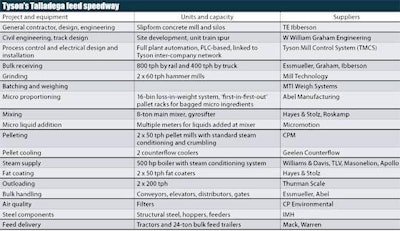 Commissioned in 1999, Tyson's Talladega feed mill was one of a series of high-output, single-species plants built by a design-build team composed of Tyson engineers, plant managers, and electrical system designers, plus T.E. Ibberson Companyan international feed and food plant design, engineering, and construction companyand others.
In equipping Tyson-Talladega, the emphasis was to meet the design criteria of safety, quality, reliability, and simplicity (see table). All that adds up to running at high-speed, lap after lap, which fits well with the speedway tradition at Talladega.