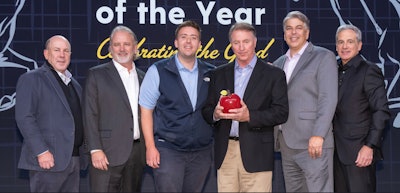 Courtesy Business Wire
Koch Foods was recognized as Applebee's 2023 Supplier of the Year.
The award was presented on behalf of Applebee's and Centralized Supply Chain Services (CSCS) at Applebee's 2023 Franchise Conference.
CSCS is the exclusive buying agent for Applebee's and IHOP.
Koch Foods CEO Joseph Grendys said: "We are proud to be recognized by Applebee's with this honor. Our company's focus is on providing great service and great products, and our team works every day to support our customers' business."
"Koch Foods provided significant margin relief to our restaurants and was instrumental in supporting our record-breaking All You Can Eat Boneless Wings promotion. Their commitment to support Applebee's restaurants was exemplary," said CSCS President and CEO Mike Leikam.
Formed as a supply chain cooperative to leverage the combined buying power of both systems, CSCS manages approximately $2 billion in spend on behalf of its member operators.
CSCS's primary mission is twofold. First, to assure that member restaurants receive the benefit of continuously available goods and services in adequate supplies at the lowest sustainable delivered prices; and second, to coordinate with IHOP and Applebee's in their ongoing efforts to develop new and innovative products and programs to promote their respective concepts.
Koch Foods, according to the WATTPoultry.com Top Poultry Companies Database, is the sixth largest poultry producer in the United States and the ninth largest in the world. In 2022, it slaughtered 670 million head of broilers.