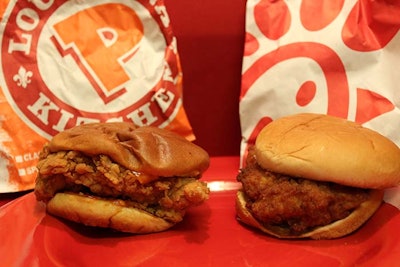 A fast food social media feud. The No. 1 trending topic on Twitter (#ChickenSandwichWars). Unprecedented sales.
It all started on Aug. 12 when the quick service restaurant chain Popeyes debuted its fried chicken sandwich, announced on Twitter and receiving only light interest. Then on Aug. 19, Chick-fil-A, the third largest restaurant chain in the U.S., fired back with a tweet claiming ownership of the original chicken sandwich. When Popeyes replied, the beef started.
Customers and fans responded by ardently advocating for their favorite chicken sandwich on social media with the hashtag #ChickenSandwichWars.
The Popeyes' sandwich sold out at all locations in just two weeks. Google searches for "Popeyes chicken sandwich" grew almost 1,000% following the Aug. 19 tweets, according to Google Trends, and "Popeyes" and "chicken sandwich" are still trending as "Breakout." More than a month after the "sandwich wars" started, and #ChickenSandwichWars is still making rounds across social media.
Share your love of chicken
How long the chicken sandwich wars will continue remains to be seen. Fans enthusiastic in keeping the love and war for chicken going strong can follow @celebratingchicken on Instagram. The WATT Global Media channel celebrates chicken and encourages fans to share their experiences with the world's most popular protein. Featured is a wide array of chicken-themed photos including chicken dishes, restaurants, clever marketing, retro signage, logos, ads, big chicken statues and, of course, chicken sandwiches.
More chicken, please
Is it really a surprise that people have such intense feelings about a fried chicken cutlet on a bun? The appeal of chicken — a lean, nutritious and economical source of protein — stretches far and wide throughout the cuisines of cultures around the world. There is one clear winner in the sandwich war: chicken.
With world poultry production at nearly 123 million metric tons in 2018 and expected to rise to 139 million metric tons by 2027, poultry meat remains the most produced meat in terms of metric tonnage, according to Food and Agriculture Organization (FAO) and WATT Global Media Poultry Trends data. Global average poultry consumption is 30.67 pounds (13.91 kilograms) per person, per year, with Israel and the United States consuming the most at 128.97 pounds (58.5 kilograms) and 109.79 pounds (49.8 kilograms), respectively.
Pork is the most widely eaten meat in the world accounting for over 36% of the world meat intake, according to FAO data. It is closely followed by poultry at 35% and beef at 22%.
Global poultry meat consumption is projected to increase regardless of region or income level. International Poultry Council (IPC) economists agree that poultry is positioned to become the world's most consumed meat protein in 2019, taking the lead over pork, as African swine fever spreads in pig herds across China.