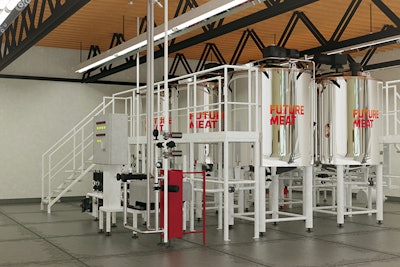 Cellular agriculture, also known as lab-grown meat, sounds like it should be created in a space-age laboratory. The process is actually much simpler.
"Creating meat in a laboratory sounds cool, but, our laboratories are more like kitchens or the places that make yogurt or beer. The equipment we use is not all that different than the equipment used in a microbrewery across the U.S. There is nothing laboratory about it," explained Yaakov Nahmias, the founder and CSO of cellular agriculture company, Future Meat Technologies.
Cellular agriculture uses real animal cells that are grown in a stainless-steel tank known as a bioreactor. The process can be used to produce a product that resembles chicken, beef, pork and other meats.
"Similar processes have been around forever," Nahmias said. "The production facilities will look like a microbrewery. This is something that farmers can have in their backyards. I see major advantages for the environment, but also for the producers in moving to cultured meat."
Benefits to producers
Experts say that cellular agriculture could be beneficial to producers, providing greater flexibility and sustainability than traditional agricultural methods.
"Today, it takes six weeks for a chicken flock to grow to maturity. With cultured meat, our 600L bioreactor – roughly the size of your refrigerator at home – can make half a ton of biomass every two weeks. That's the equivalent of raising 3,000 chickens every six weeks from a facility the size of your kitchen," said Nahmias.
"The growing cycle is only two weeks. That means every two weeks, you can change what you grow to meet market demand, giving the producers flexibility that they've never had."
Meat produced by cellular agriculture will also have greater appeal to consumers than other alternatives, they say.
"Everybody has their own bias. My own bias is that I'm the father of four kids who are very picky consumers. They love burgers and chicken tenders, but they won't try the meat alternatives. The reason is that because it doesn't taste and smell the same as real meat," Nahmias said.
"This is something that plant-based meat can't do, but cellular agriculture tastes and smells like the real thing."
Like what you just read? Sign up now for free to receive the Poultry Future Newsletter.