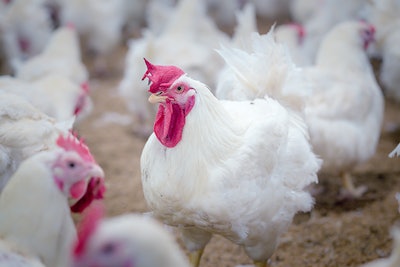 chayakorn76 | BigStock.com
Trace mineral supplementation and other management strategies could lead to gains in broiler breeder performance and chick production.
"Broiler breeders have one job – to create chicks. So, if a broiler breeder flock is performing below expectation, that's a problem for the producer and the end consumer at the grocery store or the restaurant (supply and demand)," said Bob Buresh, PhD, executive manager, Poultry Technical Services, Novus International.
"Chicks globally and here in the U.S. are very valuable right now due to a tight supply and complicated by the ongoing spread of avian influenza. Every chick counts."
Breeder management strategies
Poultry management, nutrition and bird health all play a crucial role in broiler breeder performance, particularly in egg production, fertility, hatchability and the number of high-quality chicks hatched per breeder hen.
"Those reviewing breeder management programs are evaluating the environment the hens live in, and all the equipment, including fans, lights, nests and feeding systems," he added.
"Where management is concerned, the simplest advice is sometimes the hardest to follow – you have to keep a close eye on the birds… Watching the flock and reacting quickly to fluctuations in behavior can make an impact."
Trace mineral supplementation
Trace mineral nutrition is an often overlooked aspect of broiler breeder diets. Maternal nutrition is critical in supporting embryo development and later chick performance.
"The importance of trace minerals (particularly zinc, copper and manganese) in animal performance is understood due to their valuable role in a wide variety of physiological functions," Buresh explained.
Organic minerals in a chelated form are typically preferable compared to their inorganic compound. They more closely resemble minerals found in nature, resulting in better bioavailability, stability and movement across the gut.
For example, in a recent commercial trial, broiler breeders fed an organic chelated trace mineral showed improvements in in key performance factors such as fertility, hatchability and the number of chicks per breeder.