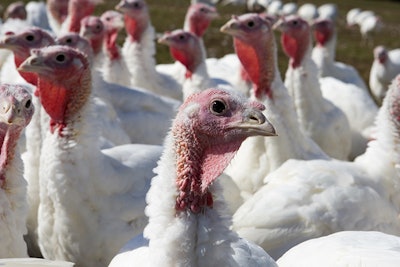 New modeling techniques assessed the relationship between antimicrobial use in turkeys and the development of antimicrobial-resistant E. coli.
"In North America, most researchers work to evaluate antimicrobial resistance (AMR) in broiler chicken flocks, and not many studies assessed AMR in turkeys," explained Csaba Varga, DVM, PhD, an assistant professor of epidemiology at the University of Illinois College of Veterinary Medicine.
The results, published in Frontiers in Microbiology, could help improve antimicrobial stewardship programs at commercial turkey operations.
Poultry antimicrobial use under scrutiny
Antibiotic use in poultry and other livestock is under scrutiny due to growing antibiotic resistance and consumer concerns. Resistance, when bacteria develop the ability to defeat the drugs designed to kill them, can devastate poultry flocks and affect the livelihood of farmers.
Although antimicrobial resistance to two critically important antibiotics remains low for E. coli, Salmonella, and Campylobacter in both humans and food-producing animals, it remains a major health concern, according to the latest report from The European Centre for Disease Prevention and Control (ECDC) and the European Food Safety Authority (EFSA), which reviews data from humans and poultry from 2020, along with older data from other species.
As a result, a growing number of poultry producers have pledged to raise antibiotic-free or with no antibiotics ever poultry.
"The poultry industry in North America is proactively implementing a stewardship program aiming to reduce the use of antimicrobials on poultry farms by developing alternatives to antimicrobials. In addition, the use of antimicrobials for growth promotion was stopped and a shift from preventative use of antimicrobials to therapeutic use has been observed," Varga said.
Determining how turkey production impacts drug resistance
Using data collected by the Canadian Integrated Program for Antimicrobial Resistance Surveillance, the research team considered the impact of the type of antimicrobials, their dose, route of administration, disease indication, duration of treatment and weight of the birds in the development of antimicrobial-resistant E. coli.
"We demonstrated that in-feed use and injection of eggs at the hatchery had the highest impact on the development of AMR," added Varga.
"The next step of our research is to evaluate the development of AMR in Salmonella sp. and Campylobacter sp. isolated from turkey flocks and identify mitigation practices, including flock health management and alternatives to antimicrobials."