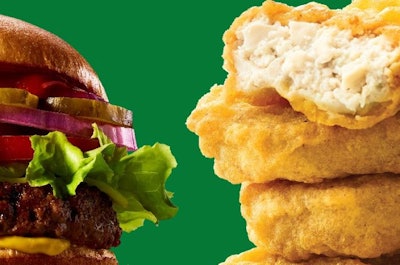 In an effort to appeal to a growing number of consumers that define themselves as flexitarian, meat companies turn to blended products.
Flexitarian consumers make an effort to reduce, but not totally eliminate their meat consumption. These consumers frequently cite perceived health benefits to reduction in greenhouse gas emissions to animal welfare concerns as motivations for the diet change.
Blended meats, where part of a meat product is replaced with plant protein, could be an easy way to meet consumer demand. Supermarket chain Whole Foods Market recently predicted that blended, less beefy burgers would be a top food trend in 2020.
New offerings from Tyson Foods Inc. include Raised & Rooted, chicken nuggets and burgers blended with pea protein, and Aidells, blended chicken, sausages and meatballs. The blended burgers contain 40% fewer calories and 60% less saturated fat than typical beef burgers.
Tyson believes blended protein products could become a billion-dollar brand, according to Bloomberg.
"Today's consumers are seeking more protein options so we're creating new products for the growing number of people open to flexible diets that include both meat and plant-based protein," said Noel White, president and CEO of Tyson Foods. "For us, this is about 'and' – not 'or.' We remain firmly committed to our growing traditional meat business and expect to be a market leader in alternative protein, which is experiencing double-digit growth and could someday be a billion-dollar business for our company."
'Chicken Plus,' the latest release from Perdue Farms in partnership with The Better Meat Co., was developed to meet the needs of flexitarian families. The product line, available in more than 7,100 supermarkets across the U.S., features items blended with cauliflower, chickpeas and other plant proteins.
"Perdue Chicken Nuggets have been a staple for families for years, but we wanted to provide an easy way to round out the meal and help parents put an end to the 'eat your vegetables' battle," Eric Christianson, chief marketing officer for Perdue.
Like what you just read? Sign up now for free to receive the Poultry Future Newsletter