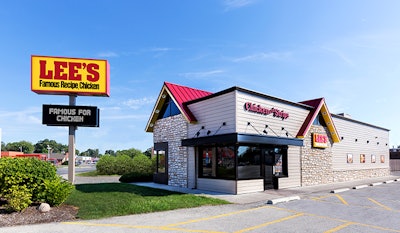 In 2021, Lee's Famous Recipe Chicken set out to "Make Chicken Peace, Not War."
The social media and PR campaign began as a light-hearted way to approach trending food service news when a flood of chicken sandwich introductions by competing brands was dubbed the "chicken sandwich wars."
The casual dining brand was recently named a finalist for the first annual Chicken Marketer of the Year award. This award recognizes excellence in marketing and public relations campaigns in keeping chicken as the protein on the center of the plate.
The winner of the Chicken Marketer of the Year will be announced at the 2022 Chicken Marketing Summit, scheduled for July 25-27 at Chateau Elan in Braselton, Georgia on July 25-27.
Finding peace in the chicken sandwich war
To create a positive outcome in what many saw as a battleground in the chicken sandwich wars, Lee's decided to declare peace through a donation to the food-related philanthropic work of World Central Kitchen (WCK).
Lee's shared news of the campaign through trade media, created tie-dye t-shirts for team members and worked with TikTok and other social media influencers to get the word out about bringing peace to the chicken sandwich wars through a philanthropic donation.
PR and social media efforts around the campaign created more than 55 million positive impressions for the chicken brand. A $10,000 "chicken peace" donation rounded out the campaign, presented virtually to World Central Kitchen for efforts to nourish communities and strengthen economies in times of crisis and beyond.
Along with doing good through WCK, the chicken sandwich campaign resulted in the successful product launch for Lee's in more than 20 years.
Founded in 1966, Lee's Famous Recipe Chicken is a casual dining restaurant that specializes in fresh, never frozen chicken. There 131 Lee's Famous Recipe Chicken locations in 12 U.S. states and Canada.
Attend the 2022 Chicken Marketing Summit
The 2022 Chicken Marketing Summit will be held at Chateau Elan in Braselton, Georgia on July 25-27. Serving a unique cross section of the chicken supply chain, Chicken Marketing Summit explores issues and trends in food marketing and consumer chicken consumption patterns and purchasing behavior.
For more information and to attend, visit: www.wattglobalmedia.com/chickenmarketingsummit/.