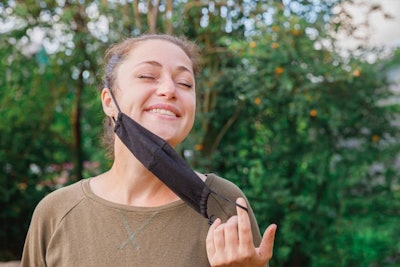 (Luljo | Bigstock)
Today's chicken consumer is not the same consumer it was pre-pandemic.
"Consumers are desperate for optimism right now," Maeve Webster, president, Menu Matters said at the 2022 Chicken Marketing Summit. "People want that optimism because there is a lot challenging that optimism," including ongoing labor, supply chain and inflation challenges.
They've reassessed their priorities as a result of COVID-19. They source goods, news, services, entertainment and information in new ways.
"We are not dealing with the same world," Webster explained. "We can't continue to do things the way they were."
Revenge spending
Part of this is revenge spending. Consumers are now spending more – buying more – in an effort to regain the opportunities they missed during the pandemic. This shifts their interactions with foodservice and the things they are willing to buy.
Chicken brands should position themselves as a splurge, rather than highlight chicken as the value protein, to attract these consumers, she said.
Shattered brand loyalty
Brand loyalty has been shattered. Pre-pandemic, Generation Z had already shed brand loyalty, and COVID-19 accelerated the trend for other generations.
During COVID-19, consumers tried new brands, new foods and new stores. As a result, new habits were born.
"Now that is a huge challenge for brands that have typically relied on loyalty to build trust with consumers. These brands need to make a huge effort to keep past customers as new customers. This is also an opportunity to attract new customers," Webster explained.
COVID-19 made consumers "near-sighted." For many consumers, they could only focus on today – or maybe tomorrow. As a result, they turned to indulgences and comfort food.
Today, that mindset has receded.
"As we move into a period where healthy eating moves into the forefront, we see a new focus on mental, emotional health, sleep, cognition and stress," she said.
Many of these consumers are plant-forward – which means they want a balance of protein and plants. The vegetables make them feel good about what they eat, but they still want proteins too.
This isn't a new trend, instead it's a fundamental shift in eating. Webster says that plant-forward is not anti-meat. Chicken will still play a vital role, especially given the many health benefits of chicken as a protein.
Attend the 2023 Chicken Marketing Summit
Serving a unique cross section of the chicken supply chain, The Chicken Marketing Summit explores issues and trends in food marketing and consumer chicken consumption patterns and purchasing behavior.
The dates and location of the 2023 Chicken Marketing Summit will be announced soon!
For more information and to attend, visit: www.wattglobalmedia.com/chickenmarketingsummit/.