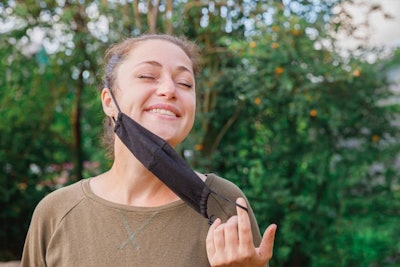 (Luljo | Bigstock)
Not so very long ago we were all thinking about how to respond to the changed world and its new working, shopping and leisure patterns. Things would never be the same again and we would work, rest and play differently.
Now, however, in many economies, companies want staff back in the office. Flexible working has become working from home on a Friday afternoon – if you are lucky! For many jobs, home working long-term never really was a possibility.
We want to eat in restaurants, spend less time in the kitchen and forget about lockdowns. We want life to go back to normal, and that normal appears not to be the new but rather the old normal
COVID-19 has not gone away and new variants and surges remain on the horizon, but for many it has simply been forgotten. That the public is returning to old habits would appear to be borne out by the results of Compass Group, the world's largest food service company.
Compass Group, which operates in over 40 countries, has just released its first half results, and it shows an upswing in demand from business, education, and sports events, amongst others, suggesting that the public is out and about, and not holed up at home.
The company's underlying revenue is back to 99% of that recorded for 2019, it reports organic growth of 37.9% for the first half, driven by a strong performance in North America and Europe. The company's net new business over the first half exceeded that for the whole of 2021.
Compass, unsurprisingly, given the nature of its business, suffered with the pandemic and associated lockdowns. The share price of the U.K.-based company plummeted in early 2020 but started to recover as the year drew to a close. Contrast that with the fortunes of a number of pandemic go to companies such as Amazon, Netflix or Peloton, where share prices have gone into decline over the last 6-12 months.
Growth in all areas
Compass has reported strong growth across all sectors, with a notable volume recovery in its business and industry and education segments.
For the company's business and industry segment, there has been a notable improvement in top line performance since the start of the year, with Q2 at 83% of pre-pandemic levels, versus 68% in Q4 2021. This reflected the easing of government restrictions across many markets and associated return to workplaces, the company notes.
Education also performed particularly well, increasing to 107% of 2019 revenues in Q2 2022, from 94% in Q4 2021.
The company's healthcare and senior living, defense, offshore and remote were all trading at pre-pandemic levels during the first half
North America and Europe led growth for the company, while rest of the world revenues reached 90% of 2019 levels.
Compass has said that it has exited the pandemic as a stronger and better business, with confidence in the future as more companies outsource their catering needs.
While undoubtedly, the pandemic will have left long changes in the way we work, shop and eat, now that the world is returning to a degree of normality, consumers are not going back to the future but back to the past.