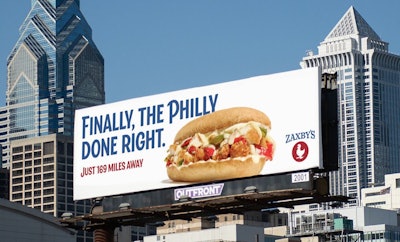 Zaxby's | X
Zaxby's is putting its own twist on a Philadelphia icon – The Philly cheesesteak sandwich.
But in this case, Zaxby's is serving the Fried Chicken Philly. The sandwich will be offered for a limited time while supplies last.
The new sandwich features Zaxbys' signature fried or grilled chicken, savory garlic aioli, and a combination of melted American cheese, grilled peppers and onions served on a toasted hoagie roll. The Fried Chicken Philly is a fusion of traditional Philly flavors and Zaxbys' hand-breaded chicken, marinated for 12 hours and cooked to ensure crispiness and flavor in every bite. The garlic aioli adds a creamy and zesty element, complementing the craveable combination of melted cheese, grilled peppers and onions, the company stated in a press release.
And in a playful but courageous move, Zaxby's is taking the opportunity to jab at the city of Philadelphia with its new menu offering.
"Finally the Philly done right — and it took a Southern brand famous for its fried chicken to do it," said Patrick Schwing, chief marketing and strategy officer at Zaxby's. "We're so confident in our Fried Chicken Philly that we believe even die-hard Philadelphians will agree that it's undeniably delicious."
Part of that jab is evident in the company's advertising choices. Despite not having a location in Philadelphia, Zaxby's did place a billboard advertising the sandwich in the city. That billboard includes the words, "Just 169 miles away," but does not identify the city referenced.
The company, did, however, reveal on X, formerly known as Twitter, that the closest Zaxby's location to Philadelphia is in Chantilly, Virginia.
"We know there's a spirited debate about cheesesteaks in Philadelphia, and we wanted to have a little fun with it," added Schwing. "We've been perfecting fried chicken since 1990, so our take on this classic sandwich is sure to satisfy cravings and keep people coming back for more. Stay tuned."
Starting at $7.29, the sandwich is available at participating locations, including the one in Chantilly.
Founded in 1990, Zaxby's has grown to have more than 900 locations in 17 states. The company is headquartered in Athens, Georgia.