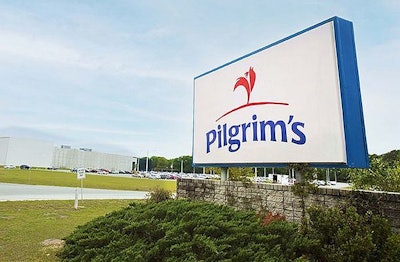 Courtesy Pas Reform
Pilgrim's Pride recently completed the third quarter of the 2023 fiscal year, but the CEO of the company is already talking about market factors that the company will be watching during the next fiscal year.
CEO Fabio Sandri elaborated on the performance so far in FY 2023 and offered some insights for 2024 during the company's quarterly earnings call, held on October 21.
"Looking into next year, (there are) three things I think are very important to identify and monitor," Sandri said.
Those are:
Competing proteins: Sandri said Pilgrim's is expecting limited growth in the domestic availability of total protein in the United States. He expects lean beef supplies to be down, and as a result, beef prices will be high. That bodes well for consumption of chicken, he said.
Grain costs: Fabio said he is presently seeing moderation in the prices of grains, which helps the company keep feed costs down. He mentioned "very favorable production" of feed grains, especially corn.
Promotional activity: How much chicken is promoted at the retail and foodservice level is a big factor for the sales of the product. Sandri said high beef prices will help with promotional activity for chicken, as will Pilgrim's diverse product range.
Comparisons between 2022 and 2023
Net sales for the company have been down in 2023 when compared to 2022. For the third quarter of 2023, sales dropped to $4.36 billion, a relative drop from the $4.47 billion in net sales for the same period of 2022. For the first nine months, Pilgrim's net sales reached $12.83 billion in 2023, compared to $13.34 billion in 2022.
The dropoff in net income on a year-over-year basis was even more pronounced. For the third quarter, net income was essentially cut in half from $258.4 million to $121.6 million. For the first nine months, the difference was even more drastic, with the 2022 figure at $901 million, compared to $186.9 million.