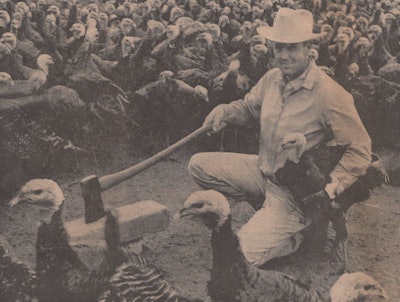 Hutchinson News
I wasn't alive yet in 1963, but I recently stumbled upon an old newspaper to give me some insight about what was being felt in the United States around Thanksgiving sixty years ago.
While helping clear out the home of a late relative, I happened upon an old stack of newspapers. Upon closer look, I discovered some of those papers chronicled the assassination of U.S. President John F. Kennedy, and the days following that.
I thought it was cool that he had the foresight to keep these, as I'm sure such copies are difficult to find, and there is a definite historical significance. None of my cousins who are his direct descendants seemed to want them. I'm not sure I really need them either, but I figured somebody would want them, so I held on to them.
Turkeys gather for photo
Several days after setting them aside, I thumbed through them. One particular issue that caught my attention was the November 29, 1963, edition of the Kansas-based Hutchinson News.
This would be the day after Thanksgiving, and one week after Kennedy's death.
But right in the lead photo position wasn't anything related to Kennedy, but rather, a flock of turkeys gathered around a farmer. Who just happened to have an ax and a chopping block.
The caption read: "THEY MISSED THE BLADE – Escapees from the Thanksgiving chopping block gather around Don Fourier of Kinsley."
It was clearly a staged photo, as you can see. And if Fourier actually took an axe to all those turkeys, he must have been one exhausted man. (I later read on the Kinsley Library Archives online that he had them processed at facilities in Fairview, Oklahoma, and Gibbon, Nebraska.)
It was interesting seeing the birds, clearly a different breed than what is more commonly seen today. They were thinner and had dark feathers. I wondered if Fourier was still living today, or if any of his family members still have anything to do with the turkey industry.
The town of Kinsley touts itself as Midway USA, as signs there proclaim that it is exactly 1,561 from both New York City and San Francisco. It's been a few years since I've been there, so I don't even know if there is any turkey production there anymore, but it was a fun photo to see.
Kennedy and turkeys
Even though the presidential turkey pardon didn't start until George H.W. Bush took office, the National Turkey Federation has been presenting the National Thanksgiving Turkey to the president since the Harry Truman administration.
But what I had earlier learned was that Kennedy did catch a glimpse of the presidential turkey right before his assassination.
Several years back, Foster Farms' Ira Brill, who refers to himself as the "unofficial, self-appointed presidential turkey historian," told me that Kennedy said he felt the turkey should be allowed to grow just a little bit longer, but obviously, he never got to dine on that turkey.
President Johnson's advice
Since Kennedy was unable to address the nation on Thanksgiving sixty years ago, his successor, President Lyndon B. Johnson, did.
In the lead story position, was coverage of Johnson's address. I'll provide excerpts from it.
"Yesterday is not ours to recover, but tomorrow is outs to win or lose. I am resolved that we shall win the tomorrows before us So I ask you to join me in that resolve, determined that from this midnight of tragedy, we shall move toward a new American greatness," Johnson said.
"More than any generation before us we have cause to be thankful for this Thanksgiving Day. Our harvests are bountiful, our factories flourish, our hoes are safe, our defenses are secure. We live in peace."
And while times have certainly changed in sixty years, one particular statement from Johnson shows wisdom that should transcend decades.
"It is this work that I most wanted us to do, to banish rancor from our words and malice from our hearts, to close down the poison spring of hatred and intolerance and fanaticism; to hasten the day when bias of race, religion and region is no more; and to make the day when our great energies and decencies and spirit will be free of the burdens that we have borne too long," Johnson said.
Happy Thanksgiving!