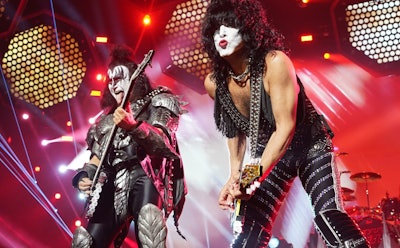 Paul Stanley | X
I've been a fan of the rock band KISS since I was just a boy, or at minimum, since childhood's end.
So when I learned the two enduring founding members of the band – Gene Simmons and Paul Stanley – opened up a Rock & Brews Casino in the not-to-distant Braman, Oklahoma, I knew I wanted to check it out.
I finally took advantage of the opportunity when I learned my co-worker Elizabeth Doughman and her husband were spending some time in the Sooner State. We decided to meet there on October 28, which coincidentally was the 45th anniversary of the release of the TV movie, "KISS Meets the Phantom of the Park."
Do we meet for lunch or supper? Upon checking the website, it said the full menu was available from noon to 9 p.m., but full service was available from 3 p.m. to 9 p.m. I wasn't sure what the difference was. I guessed full service meant that both food and alcohol were served, whereas it would make sense that alcohol wouldn't be served in the earlier hours. I really didn't want to be around a bunch of creatures of the night who had too much to drink. The wrong person could easily make Rock & Brews Casino more like Rock and Roll Hell, so lunch it was.
The food
Part of my aim was to check out the chicken at this establishment and give it a review. I had no idea how good the food would be, but I hoped it would at least be better than a sandwich from Firehouse Subs or a pizza from Little Caesars.
We discovered that the dining room wouldn't open until 3 p.m., and therefore, we learned what full service meant. But we could still get a meal while waiting at the bar. Meanwhile, we caught some of the ambiance of the place. It clearly had a rock and roll theme. And it wasn't just Kiss plastered all over the walls. I could see likenesses of Bruce Springsteen, Tom Petty, Joan Jett, Prince, Michael Jackson and Yes. It was pretty eclectic.
The waitress came and asked us what we wanted to drink. They served Pepsi products, which didn't surprise me given the fact that Kiss had done commercials for Pepsi. But with the rock theme in mind, I responded to the waitress by saying: "Gimme Some Water, which is an Eddie Money song." Either that went over her head or she didn't appreciate my attempt at humor.
Since I was on a mission to try their chicken, we started out with the wings. They had three flavors: Sweet & Spicy Asian, Rockin' Hot and Honey Chipotle BBQ. Concerned that the Rockin' Hot wings might be more like they were radioactive, or create a situation where tears are falling, we opted for the BBQ. We were asked if we wanted bone-in or boneless, and of course there is no such thing as a boneless wing, so we went bone-in. It was a good call; they were killer. The sauce was generously applied, and the flavor was bold but not overpowering. They were served at the perfect temperature, too.
For my main course, I went with the Philadelphia Freedom, an obvious nod to Elton John. It was basically a variation of a Philly Cheesesteak sandwich, but served with chicken. It was good, but could have been a little more flavorful. The portion size was generous, too. I wouldn't say it was as tasty as the wings, but certainly not something I would send back.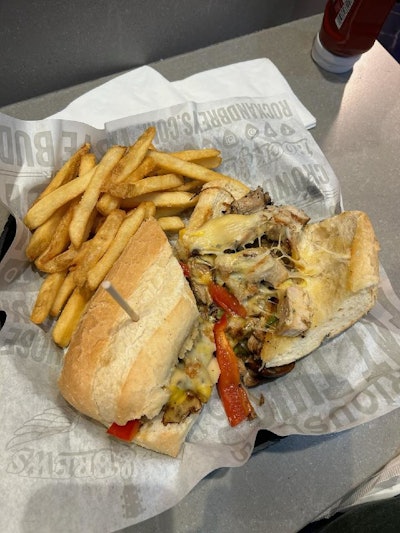 They served turkey, too. That's what Elizabeth got. But her appetite apparently isn't as big as mine, and she offered half of her Key Club Turkey BLTA, served without the A (avocado) to me. I picked the tomato off, making it only a turkey BL, but oh my gosh it was good. I think the combo if the lemon pepper turkey, melted Swiss cheese, applewood smoke bacon and garlic aioli made it the near-perfect sandwich. After I wiped out that sandwich, I was full, and I wondered if I wouldn't have to eat much tomorrow.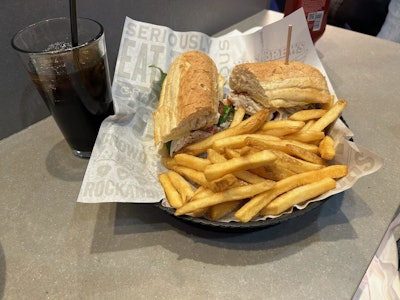 Missed opportunities
Some of the menu items, such as the Philadelphia Freedom, were named for songs or artists. Things like the Hotel California Cobb Salad, Alice Cooper's Poison Burger, Thunderstruck Sirloin, She's My Key Lime Pie, and We Salute You Pulled Pork.
Simmons and Stanley – and particularly Simmons – are well known for their marketing savvy, so I found it surprising they didn't have more menu items named in a way to promote their music. They did have Demon Chicken, a reference to Simmons' character, and Any Way You Want It pizza, which references a cool cover they once did, but that's about it.
I know some KISS songs might be inappropriate to pair with food, but not all of them. Why didn't they have a double cheeseburger called the Deuce Burger, or reference the song "Flaming Youth" in some sort of hot dish. Or they could have had a barrel of Psycho Circus Peanuts for diners to munch on while waiting for their food.
Final thoughts
I just wanna let Simmons, Stanley and their staff know I enjoyed their establishment.
It was a fun place to spend a couple of hours and a good place to have a meal. But if you are never near Braman, not to worry. There are other locations in Texas, Missouri, Wisconsin, Florida and California.
I'd recommend taking a trip to any of the Rock & Brews Casino locations if you get a chance, and the more the merrier, so invite your friends like Beth, Shandi and Mr. Blackwell to come along. After all, who wants to be lonely?