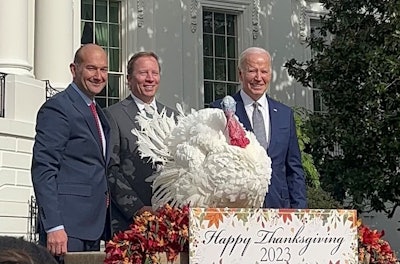 Courtesy National Turkey Federation
The 2023 National Thanksgiving Turkeys went through much to prepare for their trip to the nation's capital, but following the pardon from President Joe Biden, they will live out their lives on the St. Paul campus of the University of Minnesota (UMN).
During a special press event on November 19, Steve Lykken, president of Jennie-O Turkey Store and chairman of the National Turkey Federation (NTF) introduced the turkeys, named Liberty and Bell. Following Lykken's talks about the turkey's past and present, former Jennie-O Turkey Store President Jeff Ettinger, presently the interim president of UMN.
The past and present of Liberty and Bell
Lykken explained that Liberty and Bell were raised in Willmar, Minnesota, where Jennie-O Turkey Store is headquartered, and as spectators watched the two turkeys peacefully and regally roam the floor at the Willard InterContinental Hotel in Washington D.C., he said, "they're kind of Minnesota nice."
"When I first started my career more than 30 years ago, I never in a million years expected to have an opportunity like this to present two turkeys to the White House. It would not have been possible without some of my amazing colleagues that are here from Jennie-O Turkey Store and of course the guidance of the National Turkey Federation," said Lykken. "I'm so proud of the work and dedication that everyone has done to help make this happen."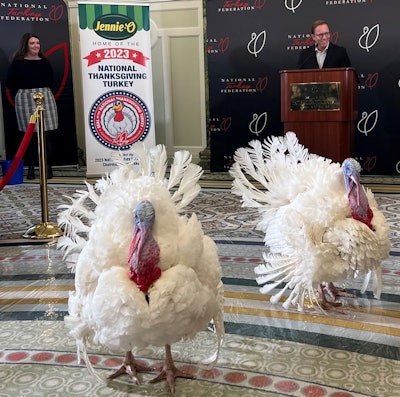 Lykken explained that the two turkeys were hatched as part of the presidential flock in July.
"They were raised like all of our turkeys, protected of course from weather and extremes, and predators in a barn, free to walk about with constant access to water and feed," he said.
But part of their upbringing was also out of the ordinary, to prepare them for their trip to the nation's capital.
"They were further prepared to be in the spotlight," he said, saying most turkeys are "not used to lots of people around with cameras clicking."
They were also exposed to "all kinds of music to get ready for the crowds and people along the way," adding that they were fans of the music of Taylor Swift and Prince.
Liberty and Bell were also featured at the Minnesota State Fair in August, where Minnesotans got the chance to meet the turkeys virtually and submit name suggestion at the Minnesota Turkey Grower Association's booth.
Off to college
Lykken said after the pardon from Biden, they will leave Washington D.C. and "have a great home to return to at the University of Minnesota."
"I know they're going to receive the highest level of care from the experts and enjoy their time. Maybe they'll get to a hockey game, maybe they'll get to meet Goldy the Gopher," Lykken said.
Lykken then introduced Ettinger, who in May was named the UMN interim president following the departure of President Joan Gabel.
He earlier was president of Jennie-O Turkey Store, a position to which he was appointed in 1999. He went on to become the president and CEO of Jennie-O parent company Hormel Foods in 2006, retiring from that job in 2015.
He briefly discussed his time with Jennie-O and acknowledged Lykken and NTF President Joel Brandenberger, before discussing the lives Liberty and Bell have ahead of them.
"The University of Minnesota is excited to help these turkeys live out the rest of their post-pardoned lives. I am here today with Dean Brian Burr, dean of the College of Food, Agricultural and Natural Resource Sciences. (CFANS). Brian and his colleagues on the St. Paul campus will be responsible for Liberty and Bell. It is fitting that they're coming to Minnesota, which leads the nation in turkey production. Tukey farmers are critical to Minnesota, and they produce over 40 million birds annually. Our Turkey farms and stakeholders generate more than $1 billion of economic activity for Minnesota and provide more than 26,000 jobs. And it's fitting that these turkeys are coming to the University of Minnesota, which is a land grant university dedicated to helping food producers. Our students, faculty and staff use science to help feed the world's growing population while sustaining our natural resources. I can assure everyone that Liberty and Bell will be beneficiaries of our trademark Minnesota nice back home," said Ettinger.
"They're headed to a quiet and comfortable roost at CFANS, and there they'll be cared for by some of the world's top poultry science experts, faculty and students, and they'll help instruct the next generation of agricultural students. Liberty and Bell will not be receiving honorary degrees, but we will continue to give them the royal treatment that they've been receiving here, minus the hotel amenities."
The pardon
On the day following the press event, which was streamed on YouTube, Biden officially pardoned the birds. Liberty was the official National Thanksgiving Turkey, while Bell was the alternate.
Lykken was joined by Jose Rojas, assistant vice president of live production at Jennie-O Turkey Store, for the ceremony.
"We appreciate President Biden for warmly welcoming the National Turkey Federation, and my esteemed colleagues and associates from the Jennie-O Team to the White House earlier today," Lykken said in a press release. "This is a busy time of year for our industry and we're grateful for the turkey producers and farmers that deliver food to our tables this holiday and every day."
NTF's participation in the National Thanksgiving Turkey Presentation began in 1947 with President Harry Truman. It has continued for 76 years across 14 successive administrations.