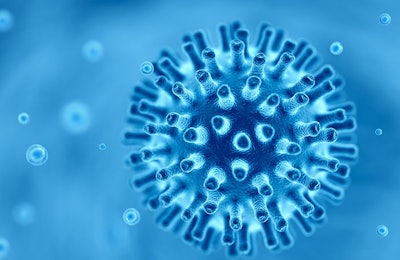 The novel coronavirus, COVID-19, while not infecting poultry, has, nevertheless, had a significant impact on China's poultry industry.
While the rest of the world now suffers with lockdowns and self-isolation, the Chinese workforce is going back to work, with life gradually returning to normal. The outlook for China's poultry industry, however, remains particularly poor and is expected to worsen.
Gone are the favorable conditions enjoyed by China's producers last year. Despite the country's improving outlook, for the poultry sector, far from 2020 bringing widely expected good fortune, like the rest of the country, farmers have had to cope with movement restrictions and paralyzed supply chains, leading to large inventories and falling prices.
A tale of two viruses
2019 saw China's poultry producers enjoying the benefits resulting from the swine sector's difficulties. With African swine fever (ASF) decimating the swine herd, demand and prices for chicken rose dramatically, with producers unable to keep pace.
With no signs of ASF being brought under control, the chicken and egg production were set to keep rising throughout 2020, but COVID-19 changed everything.
The movement restrictions imposed by China on its population – now replicated in other countries – are all too familiar, with Wuhan and Hubei province becoming household names. We are all now aware of the impact that such restrictions have on business. Less well-known is that Hubei is China's sixth largely poultry producing province.
While not all of China has been as tightly restricted as Hubei, as of mid-February four provinces had issued official notices for lockdown policies, while numerous highways, railways and other transport systems were closed.
Little surprise, therefore, that, in late January, the Hubei Poultry Association wrote to the China Animal Agriculture Association (CAAA) saying that its members were "very distressed" due to a lack of feed. The CAAA, in turn, called on feed producers to send corn and soybean meal to Hubei.
By early February, there were reports that, without feed reaching Hubei "millions of chickens may soon perish" and that some farmers had had to euthanize young birds, while others had halved the amount of feed fed per bird.
According to the state-owned media outlet Global Times, there were approximately 348 million chickens in Hubei with the province also being an important egg producer.
Similar situations have played out in other regions. Shutdowns in several provinces stopped feed reaching farms, according to Chinese state media.
Beyond the immediate
Obtaining feed has not been the only problem facing China's poultry producers - the Chinese government again closed wet markets, and numerous foodservice outlets suspended trading.
Combined with the impact of extended holiday and supply restrictions, poultry prices plummeted, leaving farmers with large inventories of birds and eggs.
China's agriculture Ministry has warned that the supply of chicken and eggs will continue to be hurt during the second and third quarters of this year.
With much of China now returning to work, production could slowly return to normal across industries, even if China's overseas clients are in no position to purchase, but where animal production is concerned, returning to normal will be much slower and more difficult.
View our continuing coverage of the coronavirus/COVID-19 pandemic.
A more detailed version of this text will appear in the April edition of Poultry International.