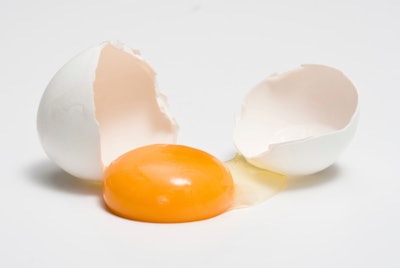 tuchkovo | iStockPhoto.com
Eggshells, normally a byproduct of liquid egg processing, could find a new use as a functional ingredient for human consumption.
"We specialize in capturing the eggshells and then converting those into new upcycled ingredients at scale," explained Sue Marshall, founder and president, NETZRO.
While some eggshells are used in animal feed, most are discarded during liquid egg processing.
"Our mission is to divert byproducts from going to a landfill," she added. "We went into the market as an upcycled food platform to literally add value to get those byproducts back into human consumption."
Separating the eggshell membrane
The process separates the membrane from the shell to produce upcycled calcium and collagen protein.
"Eggshell membrane is extremely valuable in its nutrient content," Marshall said. "But what's really difficult is doing it to scale."
The membrane-separating technology also focuses on food safety and has to capacity to perform kill steps for a number of pathogens, including Salmonella.
In the future, Marshall hopes that the technique will be able to separate the membrane more purely. The resulting product could be used in a variety of biomedical applications.
Focus on upcycling technology
NETZRO was recently selected as one of four upcycling-focused startups to receive mentoring and other partnership opportunities from Tyson Ventures, the venture capitalist arm of Tyson Foods, during the 2023 Tyson Demo Day.
"It was inspiring to hear from so many creative entrepreneurs who have a passion for innovation and sustainability," said Tyson Ventures president and Tyson Foods chief financial officer John R. Tyson. "We have a critical role to play in responsibly producing food for a growing world and I'm excited to dig deeper into the startups solutions that can help us feed the world, together."