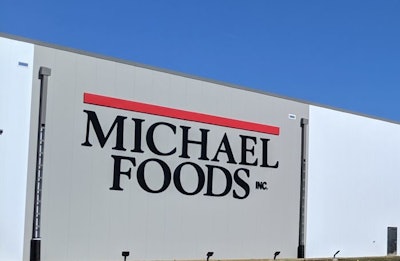 Courtesy Michael Foods
Post Holdings, parent company of Michael Foods, reported a 2.1% decline in egg volumes during the fourth quarter of fiscal year 2023 when compared to the same quarter of the previous year.
Jeff Zadoks, interim president and CEO of Post Holdings, indicated that the volume change was more related to the highly pathogenic avian influenza situation of 2022 than was to competition from other egg companies.
During a quarterly earnings call, held on November 17, Stifel Financial's Matt Smith rattled off numerous questions related to that trend.
"Was that reflective of comparing against dome elevated value in the prior year due to the avian influenza (AI) dynamic? Are you seeing lower traffic in outlets that use your value-added eggs? Are you seeing competition pick up in that area of business? Are you seeing more competitive bidding processes or are other egg producers putting in capital to compete in this category of value-added eggs," Smith asked.
Zadoks didn't directly answer each of those questions, but he did address the avian influenza situation and the volumes of competitors.
"We were able in the fourth quarter of last year to take advantage of AI impacting our competitors sooner than it impacted us, so we were able to pick up some volume that wouldn't have been our normal volume," he said.
At this point one year ago, 23 commercial egg layer, layer breeder and layer pullet flocks had been depopulated because of HPAI, whereas no layer flocks were affected by HPAI in 2023 until the first case on November 3 and another on November 14. Collectively, those flocks accounted for just a little more than 2 million chickens, while five flocks affected in 2022 had more than 2 million birds involved, including two flocks that had in excess of 5 million hens.
Regarding increased competition from other egg companies, Zadoks said that could be a factor, but not a major one.
"Last year was certainly a variable with regard to competition. There's always been competition in precooked, which is our margin driver, as you know, in eggs," said Zadoks. "We're by far the leader in that category. We continue to be the leader in the category. We're not seeing really a huge amount of change at that end of the spectrum. There's probably more competition at the lower margin side of the equation than the higher end. I would say it's comparable to what it has been. We continue to have the majority of the share. For large-scale customers, its difficult for them to get the volume from our competitors that they need."
But Zadoks also cautioned that he didn't want to sound "too rosy."
"There's obviously competition, but thus far we've had a tremendous amount of success in maintain our business and growing it, not only recently, but over time," he said.
Zadoks, the chief operating officer of Post Holdings, was shifted into the CEO role on an interim basis as CEO Robert V. Vitale went on medical leave. Vitale spoke at the beginning of the call, stating that he successfully had a malignant tumor removed, but his treatment regimen is expected to "wipe out my energy level for a period of time."
Vitale said as he undergoes treatment, he will continue to do work for the company as much as he is able.