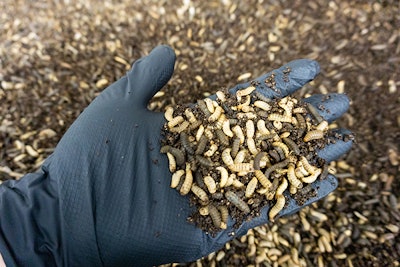 Sustainable alternatives to current feeding practices could benefit the environment and help animal feed companies become more efficient.
"Insects are not only a great feed, but they are great for the planet as well. Using insects as feed save up to 50% of CO2 emissions compared to the import of soy or fishmeal," said Wolfgang Westermeier, co-founder of FarmInsect, a German start-up that uses IoT to enable automated insect growth for use in animal feed.
"For some poultry farms, this can be an interesting opportunity as it is the most natural way of feeding and has a lot of positive impacts on the behavior and welfare of the animals. "
FarmInsect recently completed a six-figure seed financing round. They plan to use this capital to set up a pilot plant at one of the largest aquaculture companies in Bavaria.
Natural source of protein
In the wild, poultry will naturally eat insects, considered to be a protein-rich food source.
"Using feed made from insects is positive for the animal welfare. It reduces abnormal behavior due to the animal-based protein source. Feed from insects also enhances the immune system as the insects contain different kind of natural 'antibiotics,'" Westermeier explained.
Changing regulations
The EU authorized the use of seven species of insect, black soldier fly, house fly, yellow mealworm, lesser mealworm, house cricket, banded cricket and field cricket, in some types of animal feed in 2017. Animal-derived proteins still remain prohibited in cow, pig and poultry feed due to an EU "feed ban" issues in response to mad cow disease, although that could change soon.
"Currently, the EU is working on a new regulation to allow insect meal as feed for poultry, which is expected by the end of 2020. If farmers want to use insect meal as a feed ingredient, they have a competitive approach to produce part of their feed ingredients on the farm," Westermeier said.
Like what you just read? Sign up now for free to receive the Poultry Future Newsletter.