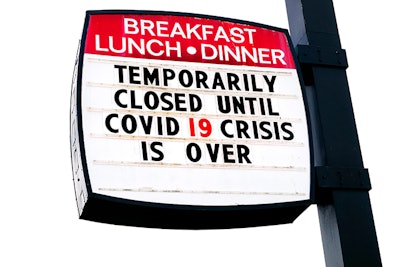 The COVID-19 pandemic this spring accelerated numerous consumer trends and habits, sending shockwaves through meat and poultry supply chains and shifting demand from foodservice to retail.
"COVID-19 is one of the biggest drivers of change and fastest maturation of eating and drinking trends in terms of cooking sophistication, confidence and meat sales that I've seen in the last 30 years," Chris DuBois, senior vice president, IRI, said during a July 1 webinar.
The webinar, which also featured Joyce Neth, vice president, director of audience development and research, WATT Global Media, was the seventh in the Chicken Marketing Summit series of webinars. On-demand recordings of each webinar, proudly sponsored by Zoetis, can be viewed for free.
DuBois and Neth highlighted 5 ways the global pandemic affected consumer habits:
Retail meat sales increase
COVID-19 related lockdowns and shelter-in-place orders meant that consumers flocked to retail stores, filling carts and emptying shelves.
"Across the department, meat has really been the star of the supermarket during the COVID-19 pandemic. Meat sales are up 41% this year, which is just phenomenal because we were predicting only a 1-2% increase," explained DuBois.
More time at home
The shelter-in-place orders meant that many consumers, accustomed to spending most of their time at work or at school, now had to figure out how to cook for themselves and their family members.
"The pandemic has brought out many of our inner chefs that need to prepare food for all of the family members spending more time at home," Neth said. "There's been a huge surge in cooking gadgets, such as air fryers and Instant Pots, as people become more adventurous in how they cook."
Chicken marketers should view this as an opportunity to help consumers find new recipes that use their products.
Changes in grocery habits
Online and contactless grocery habits grew at an exponential rate during COVID-19, which could mean changes to the future of retail.\
"How people buy in retail is changing at a rapid pace," said DuBois. "We would have continued to see ecommerce sales grow, but now it's happened at an accelerated rate. We are now seeing online sales numbers that we didn't expect to see until 2025 or even 2030."
Foodservice adapts to safety concerns
With dining rooms closed, restaurants and other foodservice outlets were forced to make big changes to keep customers coming in during COVID-19.
"Safety is a huge concern for consumers now and they expect to see plexiglass dividers, facemasks and other shields to keep them separated from other people," Neth added
Focus on health and well-being
Consumers have a new focus on their health as a result of COVID-19. Nearly one-quarter have prioritized healthier eating habits as a result of the pandemic.
"People are working to find ways to take better care of themselves. As we look at how people bought food during COVID-19, we see that they have been locking into specific attributes in ways that they haven't before," DuBois said.
View our continuing coverage of the coronavirus/COVID-19 pandemic.
Like what you just read? Sign up now for free to receive the Poultry Future Newsletter.