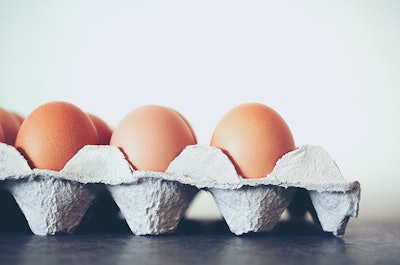 Shifting consumer demand during the COVID-19 global pandemic challenged egg farmers, Dr. Maro Ibarburu said during the Midwest Poultry Federation Convention's virtual show on August 12.
"In an effort to reduce the efforts of COVID-19, the U.S. canceled all mass gatherings, schools went to online teaching and many people were asked to work from home. Hotel activity went to almost nothing and restaurants around the country were either forced to close or change to takeout/delivery only," explained Ibaruru, a research associate at the Egg Industry Center.
"Some of the loss in foodservice sales was compensated by an increase in retail store sales explained by consumers eating more at home since they weren't going to work. On top of that, there was a lot of panic buying at the beginning of the pandemic."
Retail demand goes up
Consumers flocked to retail stores at the start of COVID-19, emptying shelves and filing pantries.
"The prices for shell eggs were increasing as normally expected before Easter and then the stay-at-home orders were put in place. This resulted in panic buying on essentials, such as eggs and milk, and some major retailers were ordering 400% more eggs than normal," Ibaruru said.
"Recently, the demand has fallen to more normal levels. The margins for the last two months has been negative, which is fairly typical for this time of year."
Liquid eggs scramble for a solution
Conversely, foodservice demand dropped dramatically as more people worked, learned and stayed at home. Takeout and delivery options were still available, but most people used that option for lunch or dinner and not for breakfast (and breakfast is the meal where eggs are typically used).
"Many foodservice customers enforced force majeure in their contracts and stopped taking delivery of egg products. This left liquid egg producers scrambling to find somewhere to send their eggs," said Ibaruru.
"Some of these eggs can be moved to retail channels, but the situation proved to be a lot more challenging than we originally thought. One main challenge is the equipment that they have in the facilities. The breaking facilities don't have the equipment to put their eggs into flats to move them to a packaging facility. They also don't have the equipment to package eggs,"
View our continuing coverage of the coronavirus/COVID-19 pandemic.
Like what you just read? Sign up now for free to receive the Poultry Future Newsletter