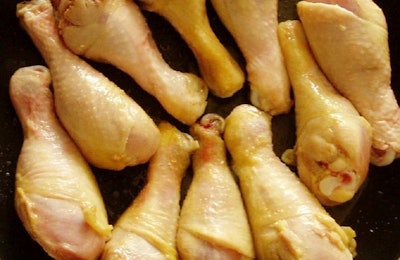 U.S. chicken consumption is at a 3-year high in 2016 with nine in 10 (92 percent) consumers saying they purchase chicken regularly, surpassing levels in 2014 and 2015. The demand for chicken in the U.S. shows no signs of slowing down as consumers anticipate eating more chicken from supermarkets and food service establishments (21 percent and 14 percent, respectively) over the next 12 months. This is according to the results of a new survey, commissioned by the National Chicken Council (NCC), which released its findings at the Chicken Marketing Summit on Monday, July 11.
"People are buying more chicken than last year and plan to buy more next year. Chicken tops the list of protein being consumed most often per week," said Tom Super, NCC senior vice president of communications. "And while retail sales continue to be strong, the survey shows that more people are eating chicken away from home, which is good news for chicken producers, food service establishments and the overall economy."
By retail channel, 87 percent of consumers ate a chicken meal or snack purchased from a supermarket and 72 percent ate a chicken meal or snack from a food service establishment within the two weeks prior to the study being conducted in 2016. Though the level of consumption of chicken from supermarkets remains nearly even with that of the previous year, consumption of chicken from food service establishments rose 7.5 percent from 2015.
Consumer views on transparency and antibiotic use
The survey also echoed consumers' desires for producers to remove antibiotics from poultry production and be more transparent about their products. When asked if various claims would increase, decrease or have no impact on their likelihood to purchase their favorite chicken products, consumers were most interested in knowing that "no antibiotics ever" were used in production of their food. As seen in 2015's survey, consumers also want to know where their food comes from; consumers reported having the greatest interest in poultry products boasting claims like "locally raised" or indicating the country of origin on the label.
When prompted, 71 percent of consumers were extremely or very concerned about food safety, and 57 percent about hormone and steroid use, despite that the U.S. law bans them; while only 19 percent of respondents were extremely or very concerned about the time it takes to raise a chicken.
Trust was found to be a point of differentiation among chicken consumers, impacting who they go to for information and how and where they shop. Conventional sources of information, like the government, poultry farmer/growers, butchers, brands and grocery stores were preferred over sources like blogs or celebrities. In fact, the U.S. Department of Agriculture (USDA) and other government sources of information were trusted by 55 percent of consumers, with grocery stores coming in second at 43 percent compared to just 8 percent for blogs and 7 percent for celebrities.
"The work this industry has done from a branding standpoint on chicken products is paying in dividends for poultry companies. They are listening to what you're saying and that's good news," Delbert Holzer, Elanco, said presenting the data.
Joyce Neth, WATT Global Media, Delbert Holzer, Elanco, and Laura Kleckner, ORC International present the results of the chicken consumption survey on Monday, July 11.
Top factors considered when purchasing chicken
Consumers were also asked to rank various factors on satisfaction, in order of importance. Regardless of purchase channel, three factors topped the list of consumer satisfaction with chicken: freshness, taste and price, although price satisfaction differed by channel with moderate satisfaction at food service establishments and somewhat lower satisfaction at supermarkets. "It's really freshness, taste and price that are driving consumption," said Laura Kleckner, ORC International.
The survey on U.S. chicken consumption was conducted online by ORC International, June 6-9, 2016, among 1,017 adults. Funding was provided by Elanco and WATT Global Media.
The Chicken Marketing Summit is taking place July 10-12 in Hilton Head, South Carolina. The 2017 Chicken Marketing Summit will be hosted July 16-18, 2017, at the Historic Grove Park Inn in Asheville, North Carolina.