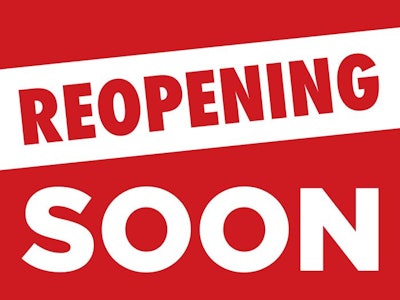 Egg breakers produce liquid and dried egg products primarily to foodservice and food manufacturing customers. When the dining rooms in restaurants in most U.S. states were closed, demand for liquid egg products virtually evaporated overnight. Urner Barry prices for liquid egg fell to record low levels -- as low as $0.08 per pound -- by late April.
Fortunately, some states are beginning to allow outdoor or in-house on-premise dining at restaurants. Results for restaurants in South Carolina, one of the first states that had closed for in-house dining that has now reopened, are encouraging. Restaurant revenue in the Palmetto state has rebounded from being down 70% from the same dates last year in late April to down around 30% in the first weeks since restaurants were allowed to start in-house dining at 50% capacity on May 4.
This rapid rebound in restaurant business is encouraging. As other states follow suit and if progress continues in the control of COVID-19 cases, this will boost demand for liquid egg and provide some relief for egg breakers. Restaurant business won't fully recover until business travel picks back up and older consumers get comfortable with going out. Quick-service restaurants are expected to recover business quicker as Americans go back to work outside the home and resume more normal patterns of eating away from home.
The entire U.S. food supply chain needs restaurants to reopen. Foodservice business will not return to pre-COVID-19 levels in 2021. The impacts of reduced travel, both for business and leisure, higher unemployment and reluctance of senior citizens and people with underlying health conditions to go out as frequently in the past will all put a drag on restaurant sales. But the situation is improving.
View our continuing coverage of the coronavirus/COVID-19 pandemic