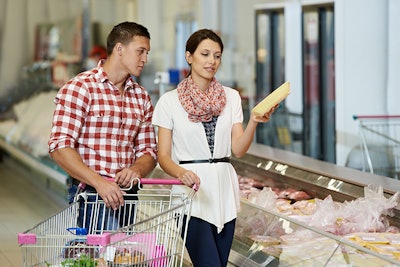 Consumers don't want chicken, pork, beef or even plant-based proteins. Instead, they hire the food that's right for the job.
"By asking ourselves what jobs consumers need done versus what can chicken do, we change our vantage point. We must stop thinking that we are selling chicken to consumers because that limits our ability to see new opportunities. Instead, we are selling solutions," Kevin Ryan, CEO, Malachite Strategy and Research, said during the keynote session, "The future of food: Keeping chicken on the center of the plate," at the 2021 Chicken Marketing Summit.
"It's this mindset that will help you see beyond the current confines of what chicken does today and help you innovate for what chicken might do tomorrow."
For example, busy mom Julia might select plant-based protein crumbles over frozen beef or a whole chicken to feed her family. She made this choice, not because it was plant-based, but rather because it was the most convenient option available in her refrigerator.
During the session, Ryan shared the seven big jobs chicken needs to do to so that consumers continue to employ it on their plates in the future.
1. Instant add
Today's consumers often don't plan ahead, especially when it comes to meal opportunities like dinner. And even when they do plan, what's going on in the moment can spur last minute decisions. This means that many consumers want food options that allow them to get the meal on the table quickly. Chicken brands should offer an instant solution to make the choice easy, Ryan explained.
2. Chaos tolerant
As the COVID-19 pandemic begins to recede, consumer face busy days and nights filled with things like late meetings or baseball practice. Gathering around the dinner table as a family, while still ideal, is a challenge. In this post-pandemic world, consumers want food that can be reheated and still taste delicious.
3. Appliance compatible
Cooking appliances exploded in popularity during the pandemic. Even though many of these appliances are designed to be user-friendly, they aren't fool proof and there can be confusion over what kind of meals work best. Consumers look for solutions that work the best in whatever air fryer, Instant Pot or other appliance they have begun using.
4. Inspiration ready
While meals need to be quick and convenient, consumers don't want them to be boring. Making the same meals week in and week out can become monotonous. They want to follow the inspiration that is put in front of them. Chicken needs to be open to inspiration, via cuts, packs, kits or bundles.
5. Harder working
Consumers want food that does more than one thing. This means that they are looking for items that are more nutrient dense. For example, 30 years ago, everyone ate white bread or other simple starches, whereas today, whole wheat bread is the more popular option due to its perceived benefits. This is true for protein as well and can help explain the growing popularity of blended proteins and plant-based meat alternatives.
6. Meaningful consumption
Values and beliefs play an important role in the shopping decisions of modern consumers. What does your brand stand for? We have entered an age where animal welfare, environment and local industry matter and consumers use their dollars to vote for the causes they believe in.
7. Premium enjoyment
No matter how high or low their income is, the data shows that consumers want more premium goods. Prior to the pandemic, the job of premium enjoyment was often solved by foodservice, but now consumers have realized that grocery retail, foodservice delivery and direct-to-consumer are all viable options as they look to celebrate and connect.
Attend the 2022 Chicken Marketing Summit
The 2022 Chicken Marketing Summit will be held at Chateau Elan in Braselton, Georgia on July 25-27. Serving a unique cross section of the chicken supply chain, Chicken Marketing Summit explores issues and trends in food marketing and consumer chicken consumption patterns and purchasing behavior.

For more information and to attend, visit: www.wattglobalmedia.com/chickenmarketingsummit/.
Like what you just read? Sign up now for free to receive the Poultry Future Newsletter.