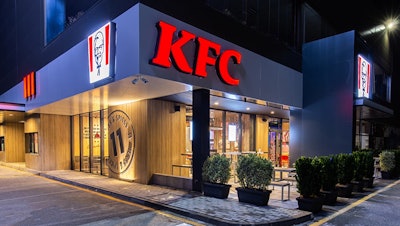 The KFC slogan – "It's finger lickin' good" – was ranked as the most recognizable quick-serve restaurant (QSR) "sonic logo," according to a survey from audio research and analytics platform Veritonic.
"As the consumption of audio continues to burgeon, what a brand sounds like is becoming as important as what it looks like," Veritonic CEO & co-founder Scott Simonelli wrote in the company's 2022 U.S. Audio Logo Index report.
"Audio branding is just one of many kinds of audio that are being utilized to increase reach and brand awareness in today's multi-faceted media landscape."
A sonic logo is the audible version of a visual logo, shrinking the brand's identity into a sequence of notes that consumers learn to associate with a brand's purpose and values. The survey asked panelists to rate companies on the creative resonance, recall, association and effectiveness of the sonic logos of various brands.
The number one-ranked brand across all industries was Folgers coffee and "The best part of waking up is Folgers in your cup," revealed the feedback from 2,864 panelists. At number five, KFC was joined by three other QSR's in the top ten, Little Caesar's (#6), Red Robin (#9) and Arby's (#10).
Does your brand have an effective sonic logo?
Submit your nomination for the Chicken Marketer of the Year award!
The Chicken Marketer of the Year award will recognize organizations and companies that demonstrate excellence in promoting chicken consumption. Finalists will be profiled in Poultry Future and WATT PoultryUSA publications. The winning organization will be recognized during a trophy presentation at the 2022 Chicken Marketing Summit.
Submissions for Chicken Marketer of the Year will be accepted until May 1. To submit your free nomination, visit https://www.wattglobalmedia.com/chickenmarketingsummit/chicken-marketer-of-the-year.
Attend the 2022 Chicken Marketing Summit
The 2022 Chicken Marketing Summit will be held at Chateau Elan in Braselton, Georgia on July 25-27. Serving a unique cross section of the chicken supply chain, Chicken Marketing Summit explores issues and trends in food marketing and consumer chicken consumption patterns and purchasing behavior.
NEW FOR 2022: Submit your free nomination for Chicken Marketer of the Year.
For more information and to attend, visit: www.wattglobalmedia.com/chickenmarketingsummit/.