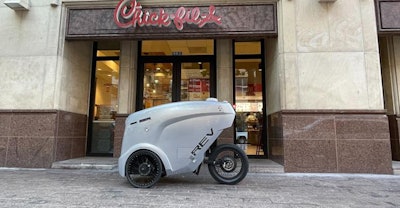 Chick-fil-A will pilot the use of autonomous vehicles to deliver food to guests within one mile of select restaurant locations in California, Texas and Florida.
"Two-thirds of my business is delivery, and I have built a team that is hungry for the next wave of digital advancements as our business continues to grow," Luke Steigmeyer, operator of a Chick-fil-A in Austin, Texas, said in a statement.
"The autonomous vehicles have been instrumental in growing awareness of delivery at my restaurant, allowing us to reach even more customers in the area."
Made by Refraction AI, the delivery robot features artificial intelligence (AI) systems and depth-perception cameras that allows it to navigate traffic patterns and pedestrians at speeds up to 15 miles per hour. The approximately 80-pound robot can complete last minute deliveries with 90% lower carbon emissions and 80% less energy consumption than typical delivery, according to a press release.
It sends regular text updates to customers on the status and estimated time of arrival for chicken sandwiches and other food orders. The final text contains a code used to unlock the robot and take the meal.
During the trial period, "safety chasers" will follow the autonomous vehicles to ensure a safe journey, answer guest questions and monitor for areas of improvement.
"We are thrilled about working with Chick-fil-A, an organization that is admired and respected as much for its commitment to the communities it serves, as it is for the innovation and quality of its business," Refraction CEO Luke Schneider said in a statement.
"We are kindred spirits partnering with Chick-fil-A restaurants to demonstrate a smart, sensible approach to delivery that continues a tradition of surprising and delighting guests."
"It's always going to be about well-prepared, quality food," said John Featherston, senior director of new ventures. "But where and how you consume your Chick-fil-A meal based on your daily needs is constantly changing. We want to learn how to extend our hospitality from our restaurants to meet you where you are."
Attend the 2022 Chicken Marketing Summit
Delivery robots are just one of the many ways chicken foodservice brands have embraced technology to drive better engagement with the digital consumer. Other technologies include virtual kitchens, ordering kiosks, the metaverse and more.
"It can take some stress off the staff, especially when we're all in a situation where staffing is definitely tough," noted Kelley Bailie Fechner, director, customer solutions, Datassential.
Fechner will highlight the technologies and trends ready to shape the future of chicken foodservice in 2022 and beyond at the 2022 Chicken Marketing Summit.
The 2022 Chicken Marketing Summit will be held at Chateau Elan in Braselton, Georgia on July 25-27. Serving a unique cross section of the chicken supply chain, Chicken Marketing Summit explores issues and trends in food marketing and consumer chicken consumption patterns and purchasing behavior.
For more information and to attend, visit: www.wattglobalmedia.com/chickenmarketingsummit/.