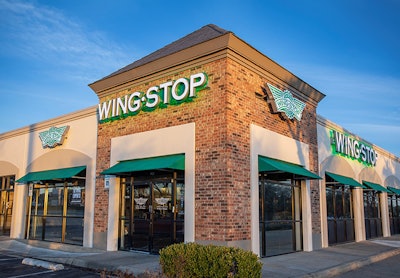 Wingstop caused a buzz on social media this week, but not for the brand's sold-out chicken sandwiches. Instead, consumers reacted to a tweet containing one single inappropriate word.
The tweet, linked here for everyone who can't contain their curiosity, quickly generated an online uproar with 490,700 likes and 91,000 retweets.
In explanation, Wingstop further tweeted: "our 12 new chicken sandwiches are so good, they're SOLD OUT."
Success of signature chicken sandwich launch
Following successful local tests earlier this year in Columbus, Ohio, Fresno, California, Las Vegas, Nevada and Orlando, Florida, the chicken chain released its signature chicken sandwich, available in 12 mouthwatering flavors such as lemon pepper, mango habanero or hickory-smoke barbeque, nationwide on August 30. The sandwich sold out in less than six days, exceeding chicken sales expectations by 300% and beating out Super Bowl Sunday transaction levels, according to a press release.
"The launch of our Wingstop Chicken Sandwich in 12 flavors exceeded our expectations on all fronts," CEO Michael Skipworth said.
"Our craveable product and viral campaign drove unprecedented, extraordinary demand from both our core guests as well as brought a lot of new Wingstop fans into the brand. Thanks to strong, trusted relationships with supplier partners, we anticipate having chicken sandwich supply back in restaurants soon, so fans and new guests alike can get their hands on their new favorite chicken sandwich."
For the record, Wingstop announced the new chicken sandwich with this tweet:
The flavor experts have widened their horizon. Your favorite flavor is now on our NEW Chicken Sandwich! pic.twitter.com/SwnW6hpvQ1

— Wingstop (@wingstop) August 30, 2022
The last time a chicken foodservice brand ran short of a newly-released product was the 2019 debut of the Popeyes Louisiana Kitchen chicken sandwich. Viral marketing and smart tweets ignited a social media battle and a frenzy for chicken sandwiches that was quickly dubbed the chicken sandwich war by consumers.
Genius marketing or Twitter hack?
Is it genius marketing? A scam? A hack? Did an unpaid intern somehow get ahold of the Twitter password? No one knows for sure, but it sure doesn't generate images of a family-friendly place to satisfy your chicken wing craving.
Wingstop has not yet responded to a request for comment from WATTPoultry.com.