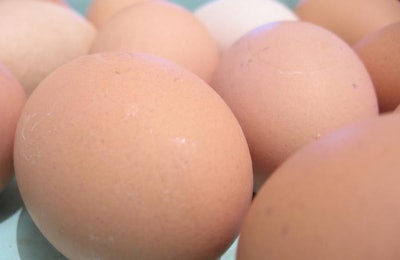 Daybreak Foods' construction of a new egg production complex in Lake Mills, Wisconsin, is progressing nicely, with three new pullet buildings populated and processing equipment starting to arrive at the new plant, which has been erected.
The plant is expected to be running in July.
Rick Roedl, Daybreak Foods capital projects manager, gave an update on the facility while speaking at the recent annual meeting of the Town of Lake Mills, reported the Lake Mills Leader. In his update, he said, "things have been very successful for us."
The company first announced the project in November 2017. At the time, Roedl said Daybreak Foods had acquired property adjacent to its current operations in Lake Mills, and would be adding five new barns. The new facilities will help Daybreak Foods not only add to its capacity, but also accommodate a transition to cage-free egg production. Once the egg complex is fully operational, it is estimated that about 2 million hens and 700,000 pullets will be housed there.
The first flock of pullets was scheduled to go from the pullet house to the first layer house on April 17. While the company awaits the completion of the plant, the eggs laid by those hens will be "packed in the building and shipped to Minnesota," Roedl said.
Also included in the complex is a biosecurity building, which houses new offices, showering facilities and laundry care.
A feed mill is also being built, with several towers already up. Construction of that expected to be finished in the fall, pending the necessary easements.
Daybreak Foods, which is also headquartered in Lake Millls, is the fifth largest egg company in the United States, with 14 million hens, according to the February issue of Egg Industry. It is a privately-held company and is involved in the production of both shell eggs and egg products.