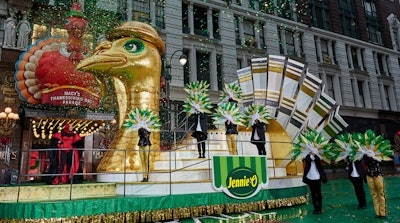 Hormel Foods
Performing his viral single, "Lil Boo Thang," Paul Russell is set to make his Macy's Thanksgiving Day Parade debut on the Jennie-O Brand parade float.
"I'm hype to bring the cookout to the Macy's Thanksgiving Day Parade with the Jennie-O brand," said Russell. "Such a dream come true to perform on a float. I can't wait."
Released on August 18, 2023, "Lil Boo Thang" reached No. 27 on the US Billboard Hot 100 list – Russell's first appearance on the list.
Jennie-O's golden Thanksgiving float
The Jennie-O Big Turkey Spectacular float will be returning for the 97th Macy's Thanksgiving Day Parade since first debuting in 2020.
"We are excited to celebrate another milestone in our brand's history by returning to the iconic Macy's Thanksgiving Day Parade," said Kim Anderson, senior brand manager with the Jennie-O brand – owned by Hormel Foods.
The Big Turkey Spectacular float definitely lives up to its name measuring in at 36 feet long, 25 feet wide and 24 feet tall and covered in 200 pounds of gold and green sparkles.
Built using enough steel tubing to cover the length of a football field, the turkey's tail feathers are 25 feet wide, two stories tall and can shoot confetti.
And if a hit song, confetti and 200 pounds of glitter isn't enough, the turkey's golden top hat can also lift up to reveal baby turkeys.
"We're thrilled to introduce Paul Russell to our cherished Thanksgiving tradition," said Anderson. "With his chart-topping hit providing the perfect soundtrack to our celebration, we're certain this year's parade will be an unforgettable experience for viewers nationwide."
Hormel Foods' Thanksgiving customer support line
Hormel Foods is also looking to make Thanksgiving prep as stress free as possible with the Jennie-O brand's consumer-engagement experts available to advise on how to prep and cook a turkey as well as provide side dish recipes and ideas for leftovers. Customers can call the 1-800-TURKEYS hotline, live chat on the Jennio-O website or text "Turkey" to 73876 to get expert advice throughout November.