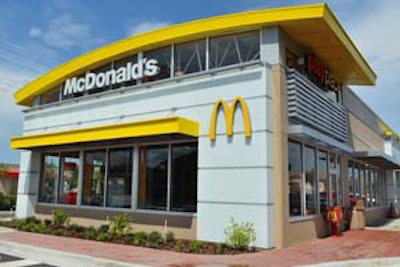 McDonald's
McDonald's is bringing back Spicy Chicken McNuggets, making the popular chicken item available on menus temporarily.
The quick service restaurant (QSR) brand first launched Spicy Chicken McNuggets in 2020. The chicken nuggets, breaded with a tempura coating made of both cayenne and chili peppers, were the first new flavor of Chicken McNuggets since 1983.
"This is the first time we've introduced a new flavor of our classic Chicken McNuggets in the U.S. since they came to menus in 1983," the brand's vice president of menu innovation, Linda VanGosen, said in a 2020 statement. "As our customers have been asking for Spicy McNuggets for some time now, we couldn't think of a better time to bring them to our menus. We can't wait for McNuggets fans to get a taste of these new spicy options."
Within three weeks of its debut, Spicy Chicken McNuggets sold out at participating locations, helping boost same-store sales to double-digits in September 2020.
McDonald's initially struggled to find its footing in the Chicken Sandwich wars. In July 2019, the board of the National Owners Association (NOA), a group of McDonald's franchise owners, called chicken sandwiches a top priority to help bring in more customers and better compete in the chicken sandwich wars, which boosted sales for the entire quick service restaurant chicken market.
In addition to Spicy Chicken McNuggets, McDonald's launched the Crispy Chicken Sandwich, now rebranded as the McCrispy Chicken Sandwich, in 2021. The McCrispy chicken sandwich lineup features a white meat chicken filet, crinkle cut pickles and a buttered potato roll.
Not the only spicy nugget in foodservice
Earlier this year, Burger King added its own take on the spicy nugget to menus.
Fiery Nuggets are coated with an "irresistible spicy glaze" and available at participating restaurants nationwide from June 19 to August 17.
"Heat is definitely having a moment, so this felt like the perfect time to introduce the Fiery Nuggets with the spicy glaze we know our Guests love," said Chad Brauze, senior director of culinary innovation and sustainability, Burger King North America.
"Glazed with Cayenne peppers, Birds Eye chili and Black pepper, the new nuggets provide the perfect combination of flavor and spice."