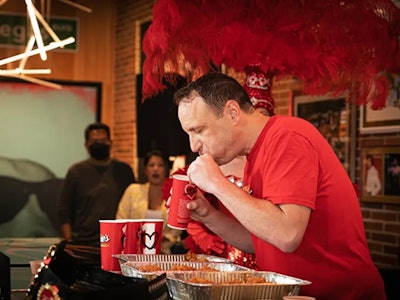 Competitive eating champion, Joey "Jaws" Chestnut, devoured 44 Raising Cane's chicken fingers in five minutes to set a new world record.
Now that's a lot of chicken fingers.
The event took place Wednesday, July 27 – also known as National Chicken Finger day – to celebrate the opening of a new Raising Cane's location on the Las Vegas Strip.
It was also available via livestream at https://www.facebook.com/RaisingCanesChickenFingers.
"These things are big. They're big, they're meaty, but they're delicious," Chestnut said prior to the clock starting. "So, I'm just going to have to hustle and find my happy place and keep going."
Chestnut is best known for winning the Nathan's Famous Fourth of July Hot Dog Eating Content 14 out of the last 15 years. He holds 55 World Records, which include knocking back 141 hard boiled eggs in eight minutes, 182 chicken wings in 30 minutes and 121 Twinkies in just six minutes, according to MajorLeagueEating.com.
Not only did Chestnut break the world record for chicken consumption while the crowd chanted his name, he continued to eat chicken fingers even after the buzzer ran out.
As the livestream announcer said, "that looks like it hurts, but it tastes so good."
Chestnut has already stated plans to break this record in future years.
Raising Cane's is one of the fastest growing quick service restaurant chains and is best well-known for its chicken finger meals. With just over 500 restaurants, the company has plans to expand in 2022.
Why social media moments are important
At the 2022 Chicken Marketing Summit, Danette Amstein, co-founder and managing principal, Midan Marketing, discussed the importance of social media moments in reaching consumers and keeping chicken as the protein at the center of the plate.
"Some of us love it and others hate it. But let's be real, it needs to be part of our strategy. Because that where they're spending time," she said.
Today's consumer has the same attention span as a goldfish – about six seconds. And, while the adage used to be that it took seven times for a message to stick with consumers – that number is now 21.
This makes it more important than ever to find ways to reach consumers where they are and in a multitude of ways.
Raising Cane's, this is a pretty clever way to reach consumers with your message, at least in my book.
Attend the 2023 Chicken Marketing Summit
Serving a unique cross section of the chicken supply chain, The Chicken Marketing Summit explores issues and trends in food marketing and consumer chicken consumption patterns and purchasing behavior.
The dates and location of the 2023 Chicken Marketing Summit will be announced soon!
For more information and to attend, visit: www.wattglobalmedia.com/chickenmarketingsummit/.