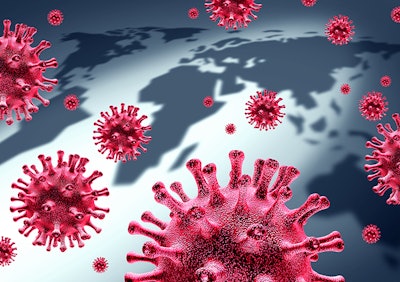 In 2020, the poultry industry grappled with challenges associated with the global COVID-19 pandemic – from supply chain issues to changes in how and where people consumed chicken. Which emerging technologies will solve these problems?
And, perhaps even more importantly, how will consumer demands shift post-COVID-19?
Lingering effects of COVID-19
"COVID-19 will have a recession-like effect on the economy. There is a strong correlation between median income and meat intake. If median income drops this year – and I would be shocked if it didn't – we should expect to see meat consumption go down," explain Dr. Paul Aho, poultry economist and President of Poultry Perspective.
Aho will be the keynote speaker at the Virtual Poultry Tech Summit, scheduled for October 20-22, 2020. This one-of-a-kind online event facilitates the transition of innovation technologies from researchers and entrepreneurs into commercial applications for the benefit of the poultry industry. Make plans to attend and take a look at the future of the industry.
Registration for the 2020 Virtual Poultry Tech Summit is now open.
In 2021, experts predict that per capita chicken consumption will fall to 11.6 kg, down from 12.1 kg in 2019. Poultry should weather the downturn better than pork or beef, as most consumer typically turn to a lower-priced meat during a recession.
"I think COVID-19 has highlighted the need for automation, robotics and machinery in processing plants," Aho said, citing the high number of workers who got sick with COVID-19 this spring.
Meat alternatives
Interest in meat alternatives – including plant-based proteins and cultured meat – will only continue to grow in the next five to 10 years, Aho predicts, although COVID-19 could change that.
"I'm not sure yet how COVID-19 will affect consumption of meat substitutes. It has accelerated some trends but slowed others. I do think that the people eating the Impossible Burger now will continue to do so," he said.
Sustainability
Sustainability was a hot trend with consumers before COVID-19 and it will continue to be important in the next 10 years.
"Sustainability is one of those words that is hard to nail down," Aho said. "There's lots of different spins you can put on sustainability. If you look at the poultry industry over the last 50 years, we've become much more sustainable in terms of feed efficiency and land use. In the next five to 10 years, the poultry industry should plan on sharing the ways it has become more sustainable with consumers."
View our continuing coverage of the coronavirus/COVID-19 pandemic.
Like what you just read? Sign up now for free to receive the Poultry Future Newsletter.