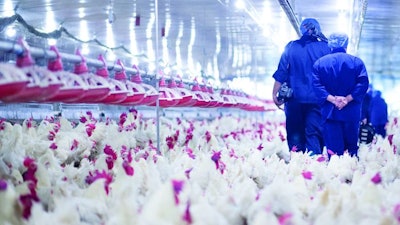 Reducing the use of antibiotics in poultry production without sacrificing flock performance can seem overwhelming. But successful antibiotic reduction efforts from around the globe have demonstrated that it is possible to reduce antibiotics while maintaining, or even improving, flock health and performance.
The Netherlands provides a good example of a successful antibiotic reduction effort. Since the European Union's ban on antibiotic growth promoters in 2006, antibiotic use has continued to decrease, except for a slight increase in 2006 as producers adapted their production practices and discovered how to raise livestock effectively without antibiotics.
An effort involving government, producers and retailers implemented 2009-2021 helped achieve a 70.8% fall in antibiotic sales. From a flock health perspective, the multi-stakeholder strategy reduced resistance to antimicrobial classes in multiple strains of Escherichia coli, often used as an antibiotic resistance indicator in broilers.
Applying value chain large-scale success
Beyond large-scale initiatives, there is an opportunity to apply practical measures to reduce antibiotics at various parts of the production chain, including at the individual farm level. Experiences around the globe have demonstrated that small changes tailored to the feed, farm and health-management challenges in different parts of the production chain can reduce antibiotics use while at least maintaining flock performance.
In summer 2022, Trouw Nutrition introduced the "Small Switches. Big Change" antibiotic reduction program. The program relies on a five-step process to drive a continuous cycle of improvement and make the reduction effort easier to manage. The five steps in the program are as follows:
1 Define the goal
Some producers may want to reduce the use of a certain category of antibiotics within a given time period while other producers may opt to completely remove antibiotics for non-therapeutic purposes. Establishing a clear goal provides a baseline for measuring progress.
2 Assessment
During this phase of the program a comprehensive evaluation of feed, farm and health management is conducted across the entire value chain.
Components of feed management that are assessed include, among others, the microbiological quality of raw materials and finished feed, feed form and physical properties of the feed. Farm management practices assessed include biosecurity, farm conditions, such as housing and ventilation, and animal management practices. Health management assessments include the evaluation of animal monitoring, antibiotic use and vaccination strategies as well as the use of feed and water additives.
3 Design the value-added program
Each producer's reduction program should be tailored to the assessment findings and the goals of the producer. The customized plan targets specific feed, farm and health management issues uncovered in the assessment. Given that more than 70% of antibiotics in poultry are used for gut health issues, interventions to strengthen birds' gut health can present a significant opportunity to reduce antibiotic use.
Customized additive combinations based on five pillars are used to support gut health in ways that include preventing bacterial intake, improving digestion, strengthening the gut barrier, stabilizing the microbiota and gut immunomodulation. Tailored feed safety solutions, nutritional advice and pellet quality improvements are often a key to the program. On the farm, management factors including biosecurity, better access to feed and water, and precise climate control are crucial.
The value of feed, farm and health interventions is calculated with the producer's input to maximize implementation success and make good economic sense.
4 Implementation
Good cross divisional collaboration is essential for successful implementation. All stakeholders must understand the program and trust one another.
5 Measurement and evaluation
After the implementation of the program, Trouw Nutrition reviews results with the producer. If defined targets are reached, the producer can evaluate if they want to take the antibiotic reduction efforts further and set new targets for the next antibiotic reduction program.
Success at the producer level
Farms and integrators implementing this holistic approach have reduced antibiotics while improving key production parameters. For example, looking at broiler production, an integrator in Spain achieved a 95% decrease in antibiotics in six years along with a 36% lower mortality. In 2021, depending on the brand, between 87% and 100% of the integrator's broiler production was produced without antibiotics
A series of small switches tailored to the producer has been shown to make responsible use of antibiotics practical and successful. Success is never a "one and done" accomplishment on the poultry farm. Once reduction targets are achieved, the holistic approach is designed to help producers maintain their low or no antibiotic production operations.
Antibiotic reduction: no negative effect on competitive position of Dutch farmers