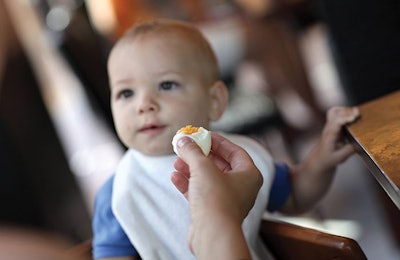 Breast milk is still the best source of nutrition for infants for their first six months, according to the U.S. Department of Agriculture's (USDA) Scientific Report of the 200 Dietary Guidelines Advisory Committee, but as complementary foods are added to the infants' diet, there is a place for eggs at the table. The report suggests feeding foods such as eggs and peanuts to infants early in their lives may help prevent allergies to these foods.
But avoiding food allergies is just one reason to feed infants eggs. The report states that key nutrients for infants include "fat (particularly long-chain polyunsaturated fatty acids, which can come from the diet or from endogenous fatty acid metabolism), protein, iron, iodine, zinc, copper, choline and the B vitamins. As a result, the adequacy of complementary foods to provide some or all of these nutrients may have important effects on child development." Eggs are rich in these nutrients.
Nutrient density is more important for infants than it is for adults because infants develop rapidly and use more of their calories for growth than for maintenance. Eggs are one of the easiest-to-digest nutrient dense foods.
Having eggs recognized as being good for infants is good for egg producers. Eggs can be an affordable, nutrient-dense part of everyone's diet. In our culture, being good for baby implies that eggs are safe, wholesome and nutritious.
It seems logical to me that eggs would provide the nutrients that developing human infants need, because they provide all the nutrients required for the developing chicken embryo. Whether for a chick or infant, eggs pack a lot of balanced nutrition in a small package.