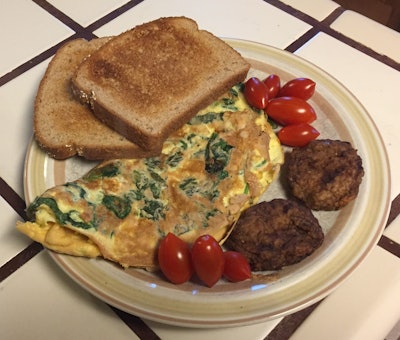 I like food. I enjoy cooking it and I like eating it even more. The part of the Annual Meat Conference which I enjoy the most is the afternoon session where meat processors show their products as they would appear in the retail case and prepared for attendees to sample. Strolling through the exhibits provides a variety of meat products which make this event the equivalent of Christmas morning for keto or paleo dieters.
The last pre-COVID in-person industry event that I attended was the Annual Meat Conference in 2020, and I feared that the lack of meat to eat would make the 2021 virtual experience a disappointment.
Tyson to the rescue
A week prior to the start of the Meat Conference I received a packet in the mail from the event organizers which included coupons from Tyson, five for free products and two for reduced price products. On shopping trips so far I have picked up free boxes of Jimmy Dean Delights EGG'WICH with turkey sausage and Jimmy Dean Fully Cooked Turkey Sausage Patties and my wife and I have tried both.
The EGG'WICH uses two egg frittatas in place of bread to make a breakfast sandwich with a turkey sausage patty and cheese in the middle. I eat an omelet for breakfast every day, so I did not find the slightly rubbery texture of the frittata objectionable, but my wife, who likes her eggs over easy, did. It was easy to eat the EGG'WICH as it was intended to be consumed, but for my second one I topped it with sliced grape tomatoes and surrounded it with toasted whole wheat bread.
The fully cooked turkey sausage patties had heating instructions for the microwave and the frying pan. I got a chuckle out of the frying pan instructions since I thought it was odd to have to heat a convenience food for 7 minutes in the pan, if you are going to do that why not just buy raw sausage? It only took 45 seconds to properly heat the napkin covered patties in the microwave. The breakfast sausage patties were moist without being greasy and were not rubbery at all. My wife, who is not a breakfast sausage fan, even liked them. I had a patty by itself and others as part of a spinach omelet sandwich completed with grape tomato slices and surrounded by whole wheat toast. While I liked the patty plain, I enjoyed my omelet sandwich with the patty included more.
Better than samples on a toothpick
I want to thank Tyson for the coupons they sent me, and I look forward to redeeming more of them. As someone who likes to cook, it is more effective for me to have the sample in my kitchen where it can become part of a meal. Eating a piece of meat or sausage on a toothpick allows you to evaluate the product's taste on its own, but it is not how we eat.
Meals are an orchestrated medley of flavors and textures brought together to deliver an eating experience which is, hopefully, greater than the sum of its parts. Bon Appetit!