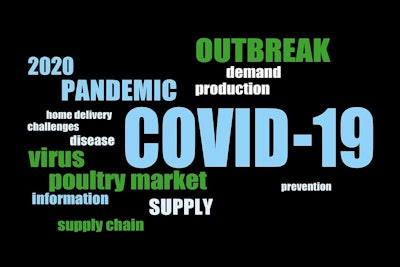 The COVID-19 global pandemic sent shockwaves through the chicken supply chain, closing foodservice outlets and making retail food sales surge. Consumer habits have also changed as they adapted to the new normal.
Join Chris DuBois, senior vice president, IRI, and Joyce Neth, vice president, director of audience development and research, WATT Global Media, on July 1 at 10 a.m. CDT for What COVID-19 pandemic caused retail shifts will last? The webinar, sponsored by Zoetis, is the last in the Chicken Marketing Summit series.
Free registration is now open.
"COVID-19 has changed the chicken and meat market more than any other event over the past 30 years. We're planning on outlining a number of changes that were accelerated by the pandemic, including the fact that people are eating more at home than the past," explained DuBois.
"Things that we would have predicted a year ago to happen five to 10 years from now are obviously happening much sooner," Neth said. "We're going to be highlighting five trends, on both the retail and the foodservice side, that will have staying power beyond the pandemic."
"We chose these trends based on the belief that they were long-lasting. These trends were already in place before the pandemic, but COVID-19 has accelerated these trends, making them more prevalent and prominent than in the past," DuBois added.
For example, a greater number of people are now spending most of their time and eating more meals at home, as opposed to at work or attending schools.
"For the last 20 years, industry associations and retailers have been puzzling over how to get more people to have family dinners at home. It's always captured a lot of interest, but it's been very hard to do," DuBois said.
"Now, there are an enormous amount of lunch and breakfast occasions that are happening at home now. Companies need to look at ways to make that more innovative and exciting for consumers."
Alternatively, foodservice outlets are now trying to figure out the best ways to convince consumers that eating out is safe again.
"On the foodservice side, there will be a transitional experience where many consumers will have a reluctance to dine out, but will continue to bring outside food in. Industry research has shown that there will be foodservice dining occasions that are lost," Neth said.
View our continuing coverage of the coronavirus/COVID-19 pandemic.
Like what you just read? Sign up now for free to receive the Poultry Future Newsletter.